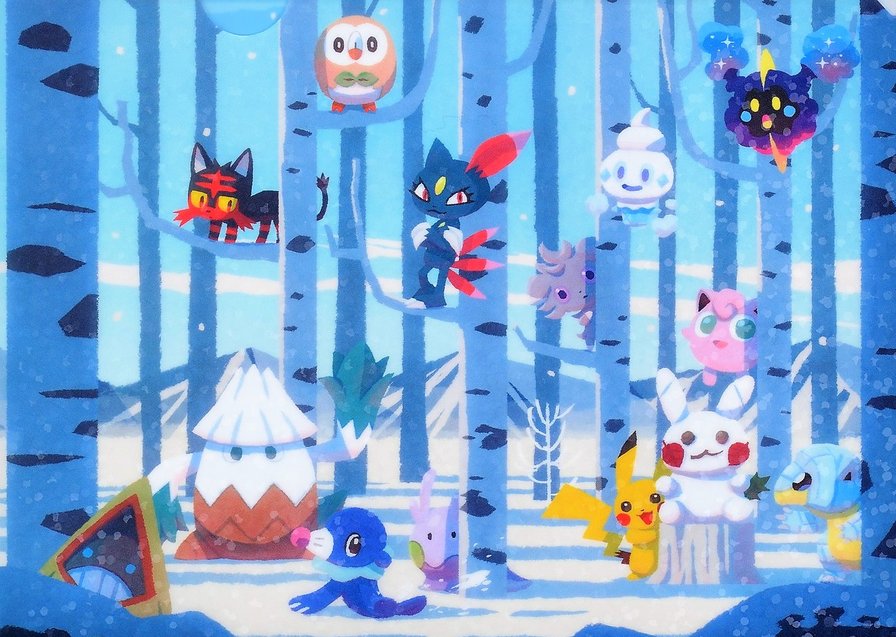 Company: Pokémon Center Japan
Year: December, 2017
Size: 17 cm (24 cm incl. ears)
Main distribution: Japan
---
This is the line Hide 'N Seek which release coincided with the Christmas 2017 line. It was exclusive during the Christmas period in Japan Pokémon Centers.
Released on the same day as the Christmas line, and often considered part of it, the Hide 'N Seek line features blanket, snowman plush, and other merchandise.
I got the Pikachu Snowman plush.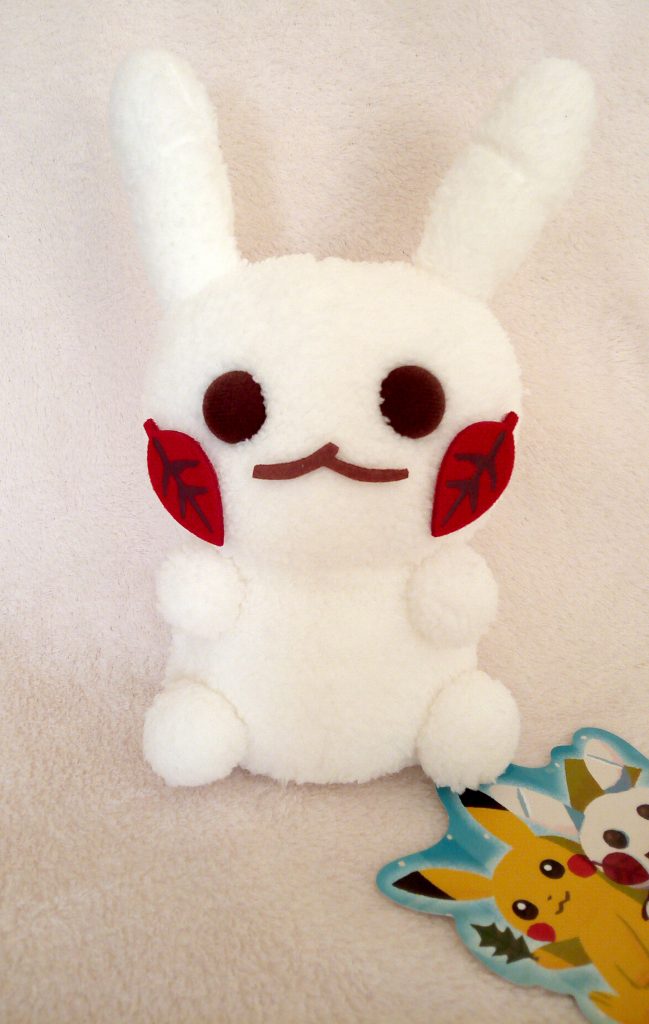 The plush is about 17 cm tall, 24 cm if you include the ears. It has a bumpy, fuzzy texture that imitates the fluffy snow. The mouth and cheeks are made out of felt and glued on. They represent a twig and leaves respectively. Its eyes are two brown fabric buttons.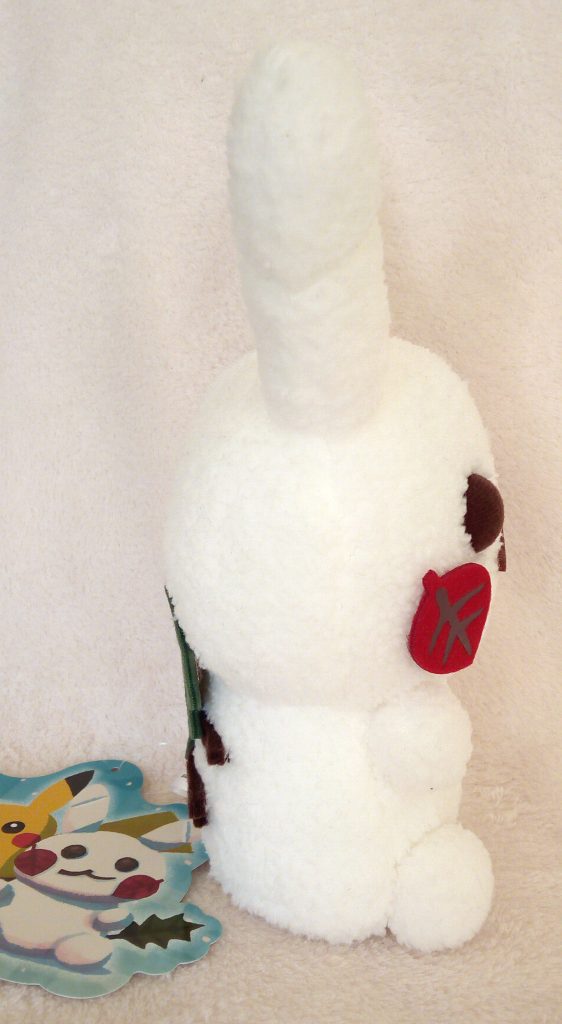 The plush is a typical snowman of 2 white bolls, with added Pikachu details like ears. This one also has 4 small snowballs for limbs.
On the back are his stripes and tail made out of felt and glued on again. They represent twigs and a leave.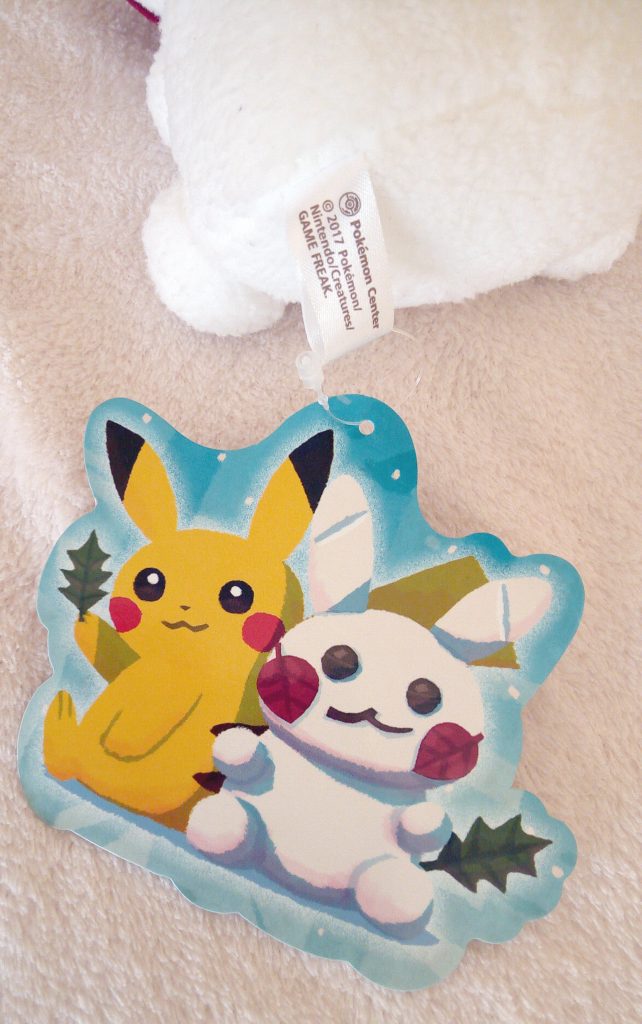 It has a standard Pokémon Center tush tag; on it it has the Pokémon Center, as well as 2017 and the © for Pokémon / Nintendo / Creatures / GAME FREAK. The Pokéball logo is fully filled in and the text is a dark brown colour. The hang tag features cute art of Pikachu who build his own Pikachu Snowman.
---
I like to dress up my house "geeky" with the holidays. Christmas and winter themed merchandise is great to put out around Christmas time. I'm not that big of a fan of characters dressed up as Santa or simply holding presents; it's too cliché. But snowmen are always cute.
I really liked this snowman Pikachu as it felt like a realmade snowman with the twigs and leaves. It had all these things you would find naturally outside which just made it look so lifelike. I find the one from 2016 more like a winter / white Pikachu, and the 2015 ones had too fancy clothes for my taste (I always put old clothes on snowmen). There is another one from 2012 I actually would still like, as it has twigs for arms and a knitted hat and mittens. That just feels more "snowman" to me.
He only gets put out for display halfway in November (when Sinterklaas arrives, as that's when the festive winter season for me starts) and stays for the duration of the winter period, usually till about end February as I clean up the winter stuff then to prepare for my birthday early March. Only pure Christmas decorations go on January 6 (like Santa's and Christmas trees). So the snowmen can be enjoyed a little longer.
Because of his wintery theme this does mean I don't see him as much as some of my other "general" merchandise as he's boxed away. But that makes him more enjoyable when he is out. He's more home decoration in that way as well, and sits proudly in the living room.
He's not too big and the colours are plain enough that he can be combined with anything. I usually create a "snow" corner with a snow blanket and other snowmen plush.
Because of his roundness (his body is a ball) he can be hard to balance and make him stand up, but because I usually display him on a snow blanket I manage.
If you like wintery or Christmas themed plush, this one is great!
---
Got any more details / information you think I should add? Or did I get something wrong? Do you own the same plush or any other Christmas / winter themed merchandise? Do you agree or disagree with my findings? Let me know in the comments below!