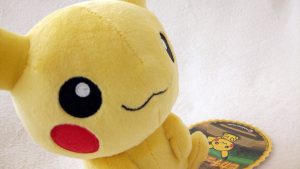 Set:  Secret Base
Company: Pokémon Center
Year: 2015
Size: 20 cm (to tip of ears)
Main distribution: Japan / USA (at Pokémon Centers)
---
This Pikachu is a Secret Base doll plush. It was released and re-released several times since it first came out, in both Japan and America. Since it came out it has been made in several sizes and also as keychains. This is the first Japanese release I believe.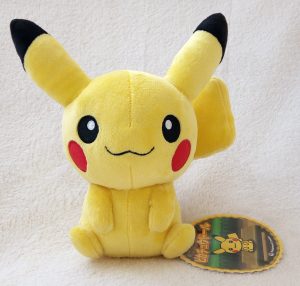 The plush looks exactly as it does in the games of generation VI, and is supposed to look like a plush, and not like a plush version of the 'real' Pikachu. Therefor its body shape is different from most Pikachu plush. It has a big head with embroidered features and does not have a nose. Its body is small with 2 arms and 2 feet at its front, as if sitting (like a standard teddy).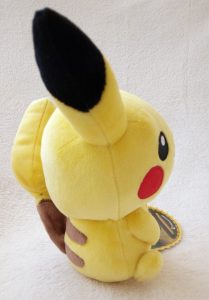 The plush is about 20cm big, to the tip of its ears.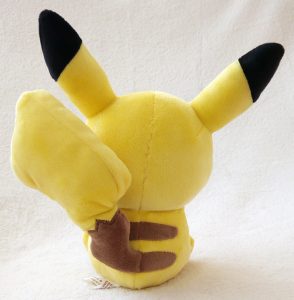 It has the iconic colours of the anime Pikachu, and has a soft and smooth texture. It feels nice, like most Pokémon Center plush do. The tail is attached to the back of its head.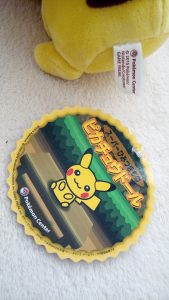 The tush tag is the standard Pokémon Center one with the Pokéball logo, Pokémon Center, year and the usual copyrights. The hangtag is quite big and circular, with a rounded sawtooth edge. It has a vector image of the Pikachu Secret Base doll on a wooden table in an outdoorsy setting, with Pokémon Center at the bottom and Japanese text at the top. The year and copyrights are along the bottom edge.
---
Although not a big fan of the games past Generation I, as a gamer I do appreciate in-game things being brought to life in plush form. Even better when that in-game thing is a plush to begin with.

It looks exactly like it! In Generation VI the player can gain a Secret Base and decorate it with Pokémon Dolls, hence the name 'Secret Base' plush. This is also to differentiate it from the Pokédolls, a different line of Pokémon plush based on the Generation I Pokédoll of Clefairy from the Copycat.
Not that high on my wants list due to it being a newer Generation thing, I still liked the video game connection to it and it looked cute without a nose. So when I found it for cheap from a collector in Asia and was buying other things off him as well, I added it to the lot. Now it sits in the game room with the Gameboy games.
It is a very cute and soft plush, the only downside to this plush is that it doesn't stand up very well on his own due to its round butt. But with a bit balancing it'll manage.
Now I just need to find that Clefairy Pokédoll…
---
Got any more details / information you think I should add? Or did I get something wrong? Do you own the same plush? Do you agree or disagree with my findings? Let me know in the comments below!