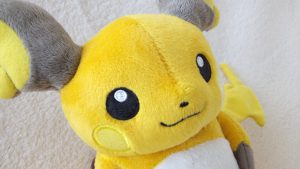 Company: Pokémon Center
Year: 2015
Size: 17 cm high (21 cm incl. ears)
Main distribution: Japan / America (Pokémon Center)
---
This is the Raichu plush from the Pokémon Center. Both Japanese and American Pokémon Centers released these, yet there were slight differences in material and pattern. This one specifically, is the Japanese version.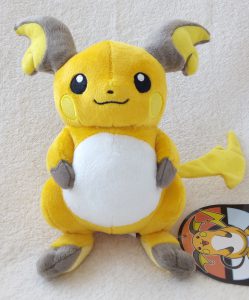 The plush stands about 17 cm tall (21 cm incl. the ears) and has a smooth, soft pile. The hands and inside of the ears are of a different material and the details and face are embroidered.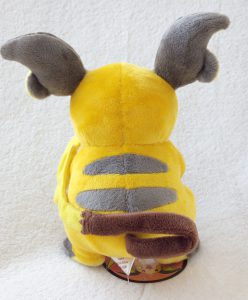 Raichu comes in its iconic anime colours. Like most Pokémon Center plush it tries to accurately represent the Pokémon, and so its proportions are pretty good.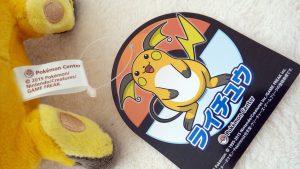 The tush tag is the standard Pokémon Center one with the Pokéball logo, Pokémon Center, year and the usual copyrights. The tag is a black with a Pokéball in the top, and the top is curved to follow the lines of the Pokéball. On the Pokéball is an image of the Pokémon and its name, in this case Raichu.
America had 2 releases of these plush, and all 3 plush vary slightly. A comparison can be seen here.
---
I always liked Raichu as he's basically a kangaroo mouse, which is probably one of my favourite rodents. Unfortunately I find Raichu merchandise often not that good looking.
That's why I don't have that much of him (sadly). However, I do like this plush. It's gorgeous and very well made. I'm glad I have the Japanese version as well, as in my opinion that is the better looking one, and has the prettiest tag as well if you care for those. It is probably the most accurate one there is in terms of colour and proportions (although I still feel Raichu should be chubbier).
He is of a nice size (not too big, not too small) and very soft! I'm very glad I manage to get one of these when they were just out, because now they seem to go for a lot more! I found this fellow in a local collector's group on Facebook, so I didn't have to deal with customs either.
The only downside to this plush is that he doesn't stand up very well on his own. But I can forgive him for that and he can chill against his fellow chu-brothers.
---
Got any more details / information you think I should add? Or did I get something wrong? Do you own the same plush? Do you agree or disagree with my findings? Let me know in the comments below!