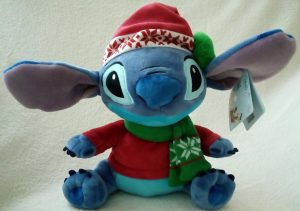 Series: Lilo & Stitch
Company: The Disney Store
Year: 2015
Size: 28 cm
Main distribution: Worldwide (at the Disney Store)
---
This is a Stitch in a winter dress up that was sold exclusively in winter 2015 in the Disney Stores.
It's a decent size plush that's a little under 30 cm. Each year the Disney Store sells seasonal items for a limited time and this guy was sold in 2015 around the winter / Christmas period.
Stitch wears a red sweater and a green knitted scarf with a snowflake motive. He also wears a red santa hat, with a green bobble and a red snowflake and Mickey Mouse head pattern on the white hem. His face features are embroidered.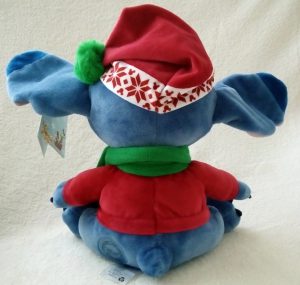 His fur is smooth and feels soft. He can easily sit on his own due to his spread legs. He has a classic "teddy" pose as I call it, meaning he sits with his legs and arms forward. This makes him look different from the animated Stitch, with slightly off proportions; a smaller body or a bigger head. His ears are large and can fairly well stand on its own instead of being floppy.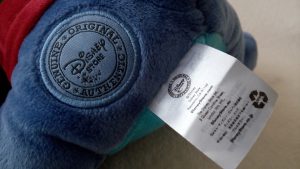 As most Disney Store plush Stitch carries the Disney Store authenticity stamp. You can find it near his butt on his back. He has a rather large tush tag, stating the usual Disney copyrights.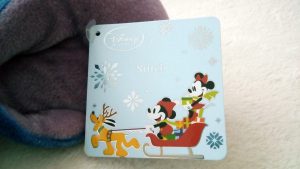 He has a hang tag in his ear, featuring a modern Mickey and Minnie Mouse with Pluto in a Christmas theme. This art was on all of the winter collection in 2015.
---
Lilo & Stitch is probably my second favourite Disney movie (after the Lion King). The rebellious and not typical Lilo resonated with me and Stitch is all things I love (blue, dog, alien). Although I prefer Chris Sander's original pitch (Stitch being a bad ass space criminal instead of an experiment gone rogue) the movie is enjoyable to watch and so different from the previous Disney movies. Stitch became one of my favourite Disney characters. His mannerisms are cute to watch and his voice is amazing.
So when my boyfriend was making me a Sinterklaas surprise he didn't have to think hard what to get me. We had seen this Stitch earlier in the shops and I had cooed at him. Still it was a surprise when I found Stitch coming down the chimney as my Sinterklaas surprise!
Although not a big fan of "teddy" posed characters nor characters in clothes they don't normally wear, this Stitch is the exception. It was our first Sinterklaas together as well so he is a bit special.
He comes out during the winter period in my house and brings some Disney magic into the living room.
I hope to gain more winter / snow, cute, geeky plush for a cute winter display in the cold days.
---
Got any more details / information for me to add? Or did I get something wrong? Do you own the same plush or any other Christmas / winter themed merchandise? Do you agree or disagree with my findings? Let me know in the comments below!