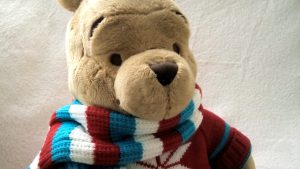 Series: Winnie the Pooh
Company: The Disney Store
Year: 2008
Size: 35 cm
Main distribution: Worldwide (at the Disney Store)
---
This is a Pooh Bear in a winter dress up that was sold exclusively in winter 2008 in the Disney Stores.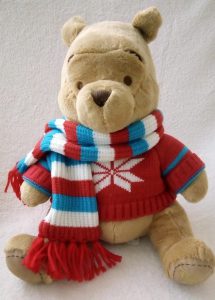 It's a rather big plush that's a little over 30 cm. Each year the Disney Store sells seasonal items for a limited time and this fellow was sold in 2008 around the winter / Christmas period. Winnie has a light brown colour rather than his animation yellow and has swapped his red T-shirt for a cosy, knitted, red sweater. It has a white snowflake / star symbol on it and blue decorative lines. He also sports a red, white and blue striped, knitted scarf. His face features are embroidered using a darker brown thread.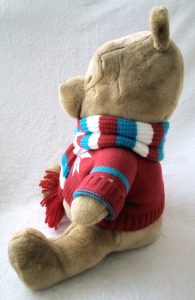 Winnie the Pooh is very soft and has a big butt that makes it easy for him to sit up. His protruding legs also help with that. His proportions are spot on to the animated bear.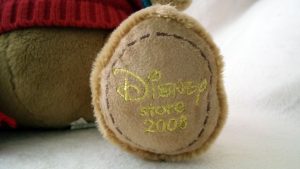 The bottom of his feet have a "patchwork" look to them with stitches. On his left foot is in gold embroidered the Disney Store with 2008, showing its exclusivity.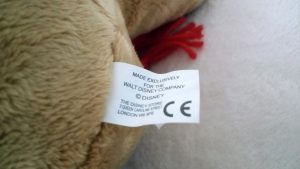 Its tush tag is fairly simple and standard, and mentions it's exclusively made for the Walt Disney Company.
---
Pooh Bear is so common and has so many plush, that I only have a few of them as I just don't find him that interesting. They all seem to be fairly the same pose but with different clothes on or different materials, and this one is no exception.
I found this particular Winnie in a charity shop when it was getting close to winter in 2015. Only costing about a pound, and being a Disney Store exclusive, you can't really go wrong with that.
I had just gotten my own place and not having many Christmas decorations yet, Winnie the Pooh in his cosy winter getup would do well. He comes out during the winter period in my house and brings some Disney magic into the living room. I have to say, he does look cosy in that warm sweater and scarf! Not in his typical yellow colour as well but more a caramel, teddy brown I find this Pooh Bear quite pleasant to look at. He is also very soft and good to cuddle with.
I hope to gain more winter / snow, cute, geeky plush for a cute winter display in the cold days.
---
Got any more details / information for me to add? Or did I get something wrong? Do you own the same plush or any other Christmas / winter themed merchandise? Do you agree or disagree with my findings? Let me know in the comments below!