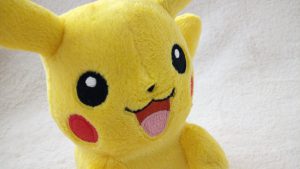 Set: Ty Beanie Babies
Company: Ty
Year: October, 2011
Size: 5.5″ / 14 cm (not counting ears)
Main distribution: United Kingdom
---
Here we have a Pikachu from the Ty Beanie Babies line. These were released in October 2011 and were officially licensed by Nintendo. They were exclusive to the UK. Ty has released 6 Pokémon characters, namely, Axew, Oshawott, Pansage, Pikachu, Snivy and Tepig.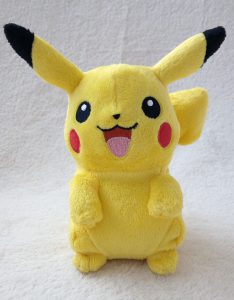 The plush is about 14 cm to the tip of his head and feels soft. Like all Ty plushies, he has a bean filling, mostly prominent in his butt. It gives the plush a nice weight and easy to balance / stand up on its own. His face details are embroidered on. Pikachu comes in its iconic anime colours.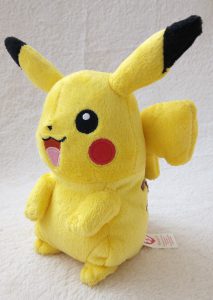 He has a nice thick puffy tail and his limbs are free. This means you can move his little arms and they are not sewn stuck to his body, although they naturally rest on his belly.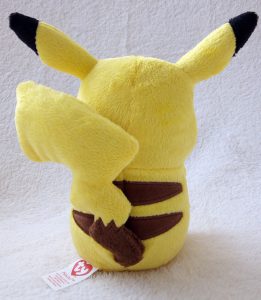 It came with the iconic Ty heart shaped hang tag stuck on its ear (although I removed it) and has the same Ty heart logo on his tush tag.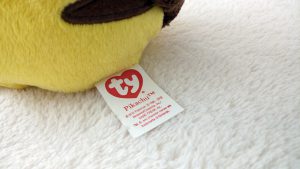 ---
I'm not a fan of Ty Beanie Babies and although the Pikachu is fairly standard in pose, this little Chu is a bit special to me. I had just moved to the UK to study and my now boyfriend bought me this Pikachu as a gift, as he knew how much I liked Pikachu. Later we found out these are exclusive to the United Kingdom, so it felt even more fitting that he had given me a UK exclusive Pikachu to commemorate my move to the UK. He has been sitting prominently in my studio since.
Thanks to the beans he sits perfectly upright on his own and feels very soft, which is a good quality to have in a plush. I don't think they are particularly rare or expensive (despite what Ty Beanie Baby collectors might say!), but due to its exclusivity might be worth more to a collector outside the UK.
My tags say 2012 while I found on a Ty collector's site it said October 2011, so perhaps there were a few runs of these? I later found the Axew which I have given as a gift to my boyfriend (one of his favourite Pokémon) to return the favour, and those tags also say 2012. However he has a slimmer tush tag. That same collectors site mentions different generation of tags, and apparently it changed in August 2012, so it's likely there were a few runs.
I think Pokémon as well as Ty collectors would like this set, and it's nice to own a European / UK exclusive for once, as they rarely seem to get that.
---
Got any more details / information you think I should add? Or did I get something wrong? Do you own the same plush? Do you agree or disagree with my findings? Let me know in the comments below!