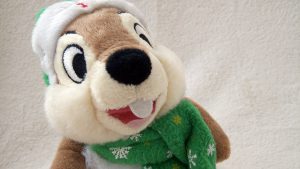 Series: Chip 'n' Dale
Size: 20cm
Main distribution: Disneyland Paris
---
This is Chip from Disney's duo Chip 'n' Dale as a snowball. It's sold in Disneyland Paris.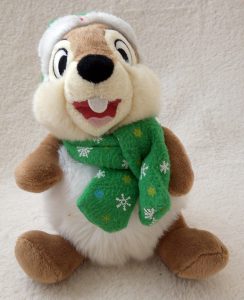 It's a small plush which I'm assuming was sold around Christmas time in Disneyland Paris. It consists of a large, soft, very fluffy white "snowball", with Chip's head and limbs protruding out.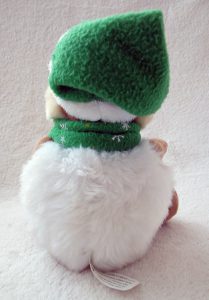 Chip wears a green Santa hat and a matching green scarf, with a snow motif on it. He has embroidered eyes and his trademark black nose and front teeth.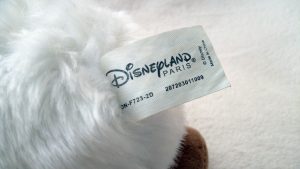 His tush tag is quite large and stiff, and reads Disneyland Paris.
---
Chip 'n' Dale are my favourite classic Disney characters. Probably because I had chipmunks as pets when I was a child. I actually don't know much about this plush at all! My mom had found it in a charity shop and bought it for me, as she knows I like the Disney chipmunks.
I found various "snowball" plush online of Disney characters, including others of Chip. So I can only assume there are multiple series of these, perhaps one each year around December with various Disney characters. If anyone has more information, or knows what year this is from and who else is in this set, do let me know!
I always liked Chip more, as I could relate to his logic and focused approach whereas Dale was always more goofy and dumb. So I'm happy to have Chip out of the two but would love of course to have them both!
What I like about this plush is you can actually imagine the chipmunks getting stuck in a snowball due to their size. Much like in the Chip 'N' Dale cartoon of 1947.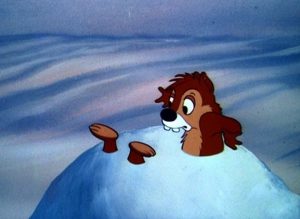 Despite its round nature (it's a ball after all), it's fairly easy to make it stand up due to its protruding legs.
During the winter period I have him displayed in the house next to my snowman Pikachu. I hope to gain more winter / snow, cute, geeky plush for a cute winter display in the cold days.
---
Got any more details / information for me to add? Or did I get something wrong? Do you own the same plush or any other Christmas / winter themed merchandise? Do you agree or disagree with my findings? Let me know in the comments below!