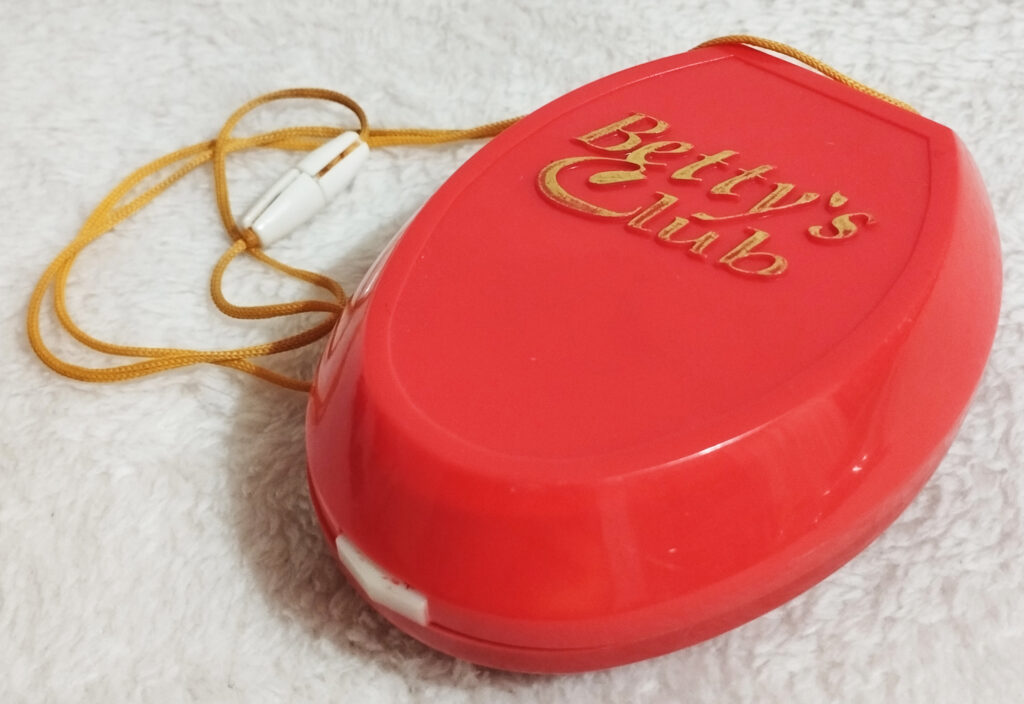 Company: PMS
Release date: 1993
Size: +/- 12cm
Main distribution: Europe
Claire's Secret Locket is a compact style playset similar to Polly Pocket.
Various sets entered the market trying to cash in on the success of Polly Pocket, namely Claire's Secret Locket, Betty's Club, Lovely Kitty, Petite Princess and Pretty Pixies. There are other compact playsets of course, but these named here all seem to copy another almost entirely. Whether these are regional variants or blatant knock offs of each other I'm not sure.
Fun to wear and even greater fun to play with. Welcome to a great mini world.
4 Claire's Secret Locket playsets were made;
– Club Paradise
– Summer Resort
– Winter Villa
– Pet Dot
I got 1/4.
Club Paradise
Release date: 1993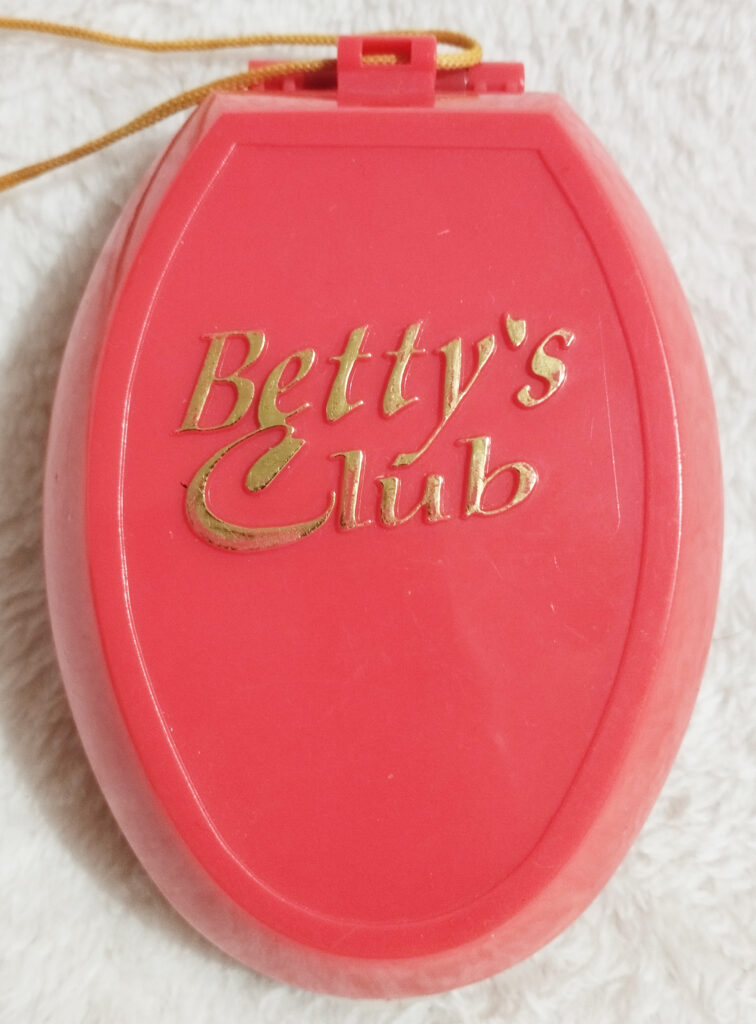 This Claire's Secret Locket appears to be an early Betty's Club playset (it even has the name on the front!). However, I've only seen this set in packaging as Claire's Secret Locket, and the doll it comes with is quite unique to it. Betty's Club has a heart shaped compact, and a different doll with a hinge, similar to Lovely Kitty. Whereas this compact is oval shaped. It's red, with on the front in golden letters Betty's Club. There's an orange rope on it with a white lock to wear it as a necklace. The back is plain, and has in raised font MADE IN CHINA on it. There's no further branding on it, but the packaging I've seen had PMS on it in the bottom left and right corner, as well as the year on the bottom left corner.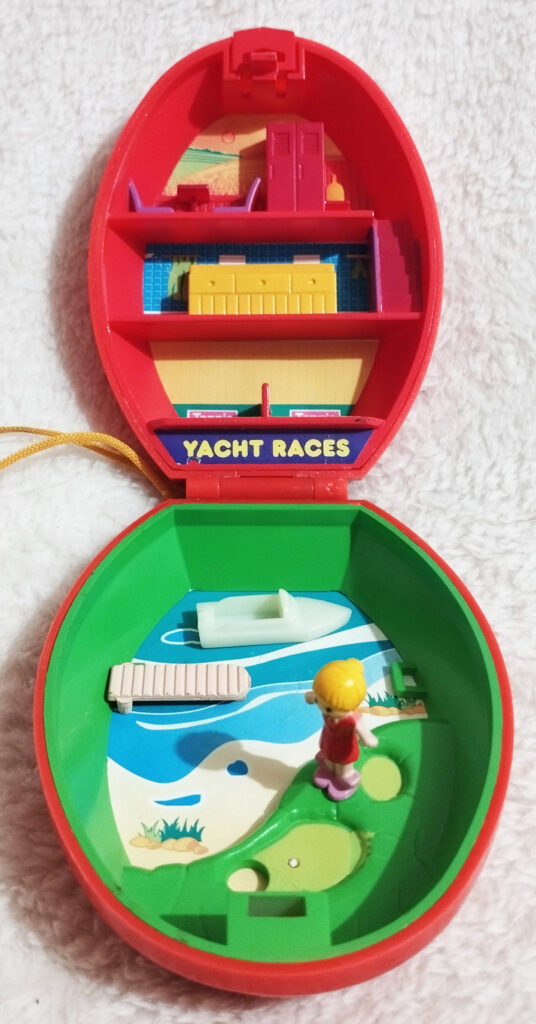 The inside shows the club. In the upright section is a seating area and lockers, below it a changing room with showers, and below that is a tennis court. Underneath that is a sign that reads "Yacht Races". In the floor section is a lake and golf course.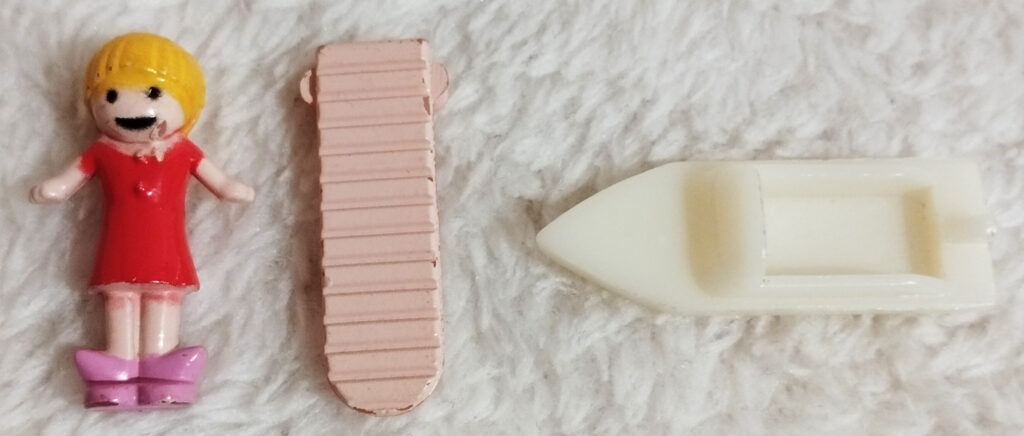 The set comes with 5 pieces and 1 figure; a doll, a white speedboat, a white rowboat, a red flag and a 2 light brown jetties. I'm missing a jetty, rowboat and flag.
On each side of the lake is a little protruding area for the jetties to connect to. There's a hole in the golf course for the flag (mine is snapped off inside it).
The doll (Betty?) is wearing a red dress and pink shoes, and has blonde hair in a ponytail. She has a happy face. She does not have a hinge, and therefor does not really fit with anything in the compact, as she can't sit in the boat nor use the upper area. An interesting choice and I can see why later sets changed it.
(The heart shaped Betty's Club / Lovely Kitty sets of this have a doll with pigtails and a hinge in the waist, and the speedboat is blue instead of white. It's also lacking the changing rooms / showers section due to lack of space in the smaller compact).
---
While casually looking for cheap Polly Pockets, I stumbled across this set. I was intrigued as I had never heard of it, and bought it because it was cheap. I thought it be fun to have a bunch of different, unique sets. And worse case I could let the nieces and nephews play with these rather than the actual Polly Pockets.
This particular set was actually quite hard to find information over. The confusing name-on-front-not-matching-the-packaging certainly didn't help. I didn't plan on putting it on my blog, but after all that digging I figured I might as well so someone else can hopefully find it easier.
I was actually surprised to find PMS again, as I only really know them from the Nintendo plush, but I'm also not surprised knowing their catalogue of carded toys and carnaval prices. I wonder if these were won on a fair too back in the 90s?
Although I have no strong feelings over this particular playset, if someone has the missing bits I would still like them to complete it, so do let me know. Or perhaps in the future I sell it. For now though, it's a nice addition to the toybox.
If you like tiny things, little scenes and cute playsets, these could be great for you.
The quality isn't that great though, but they tend to be cheaper than Polly Pocket. Having said that, they are becoming a bit of a collector's item due to rarity and uniqueness.
If you like bigger toys, these won't be for you.
---
Got any more details / information you think I should add? Or did I get something wrong? Do you own any of these compacts? Which one is your fav? Do you agree or disagree with my findings? Let me know in the comments below!