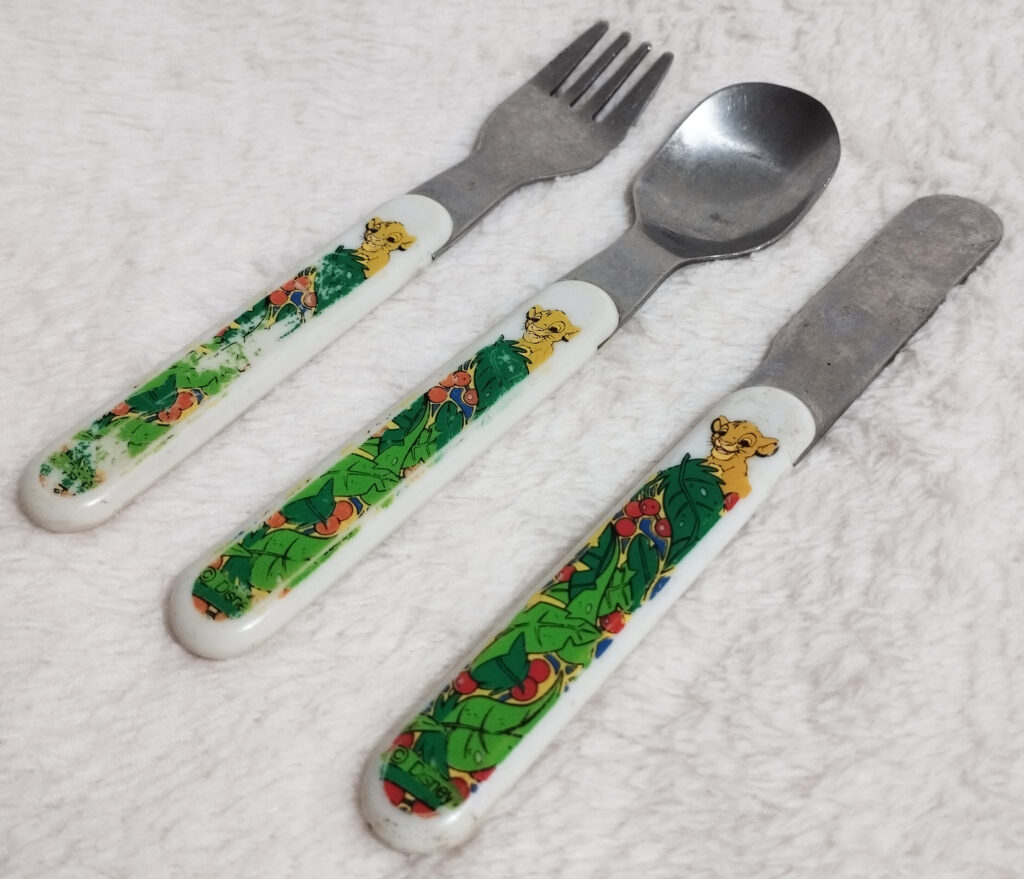 Series: The Lion King
Company: Cole & Mason England
Size: 15 cm
Made in: Thailand
Main distribution: Europe
---
This is a Lion King's themed set of children's cutlery by Cole & Mason England.
Cole & Mason is a brand from England which was founded in 1919 in London as a giftware company and soon expended into general home goods. They're mostly known for pepper mills.
At some point in the 90s they must have gotten a Disney license and made several melamine plates, bowls, cups and cutlery for children.
I got the Lion King cutlery set.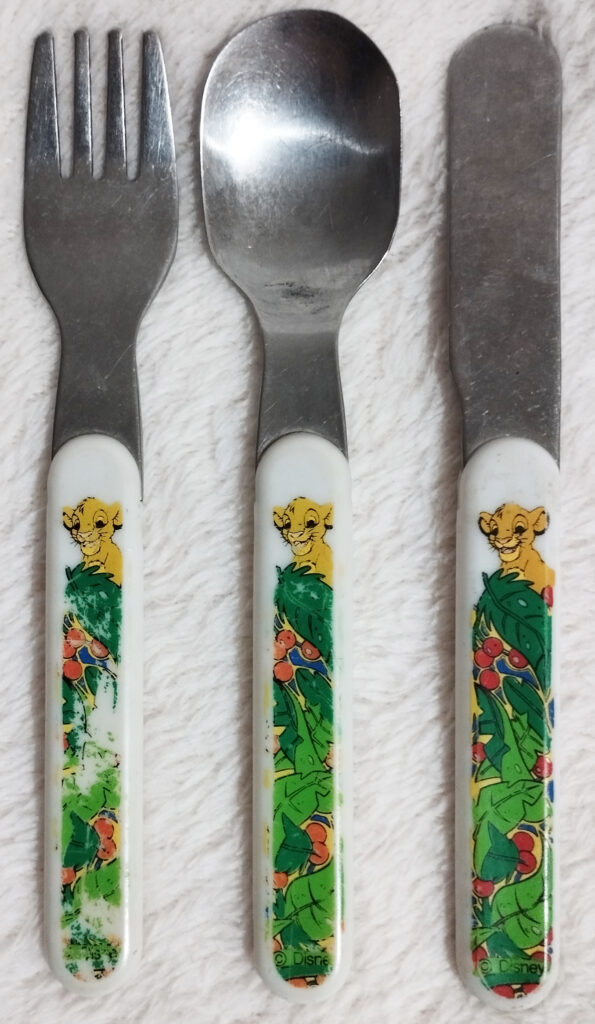 I recall it coming in a little green cardboard box, probably with a similar jungle motif.
There's no branding on it. It reads ©Disney at the bottom, and stainless steel on the back of the metal.
The jungle motif with berries is quite unique, and there's also a cup, plate and bowl of it. These do have branding on the bottom.
---
When I was 6 years old I went to the cinema for the first time and saw The Lion King. I was smitten since. I wanted everything Lion King. So with birthdays I got Lion King stuff. I'm fairly certain I've gotten this cutlery set for a birthday too.
I used it extensively so the images have started to fade. The knife didn't cut very well, as you expect from a toddler knife, so this one was hardly used. The spoon and fork got more action. But the fork especially was in use for a long time, as I didn't like my household's long pointy forks, hence it's the most faded.
There were lots of jungle themed Lion King items in the 90s, but I always found this one with the berries unique. I could only found one very faded cutlery set on the internet, but luckily I found a plate, bowl and cup with branding on it so at least now I know where it was from. I assume it was distributed in Europe, as I'm from the Netherlands and family got it for me, but it's possible my aunt (who travelled a lot) had gotten it in England one day. I recall my brother having a Pooh Bear mug from the same brand, and my aunt having a Pooh Bear bowl.
I was very happy to have re-found this in my parent's home, as for a while I thought it may be lost. It's probably one of my oldest Lion King merchandise and it's very nostalgic for me.
I decided to post it here for posterity as it's probably also one of the more unique vintage items in my collection, and I could barely find it online to being with.
---
Got any more details / information you think I should add? Or did I get something wrong? Do you own the same cutlery set? Or the cup, bowl or plate? Do you agree or disagree with my findings? Let me know in the comments below!