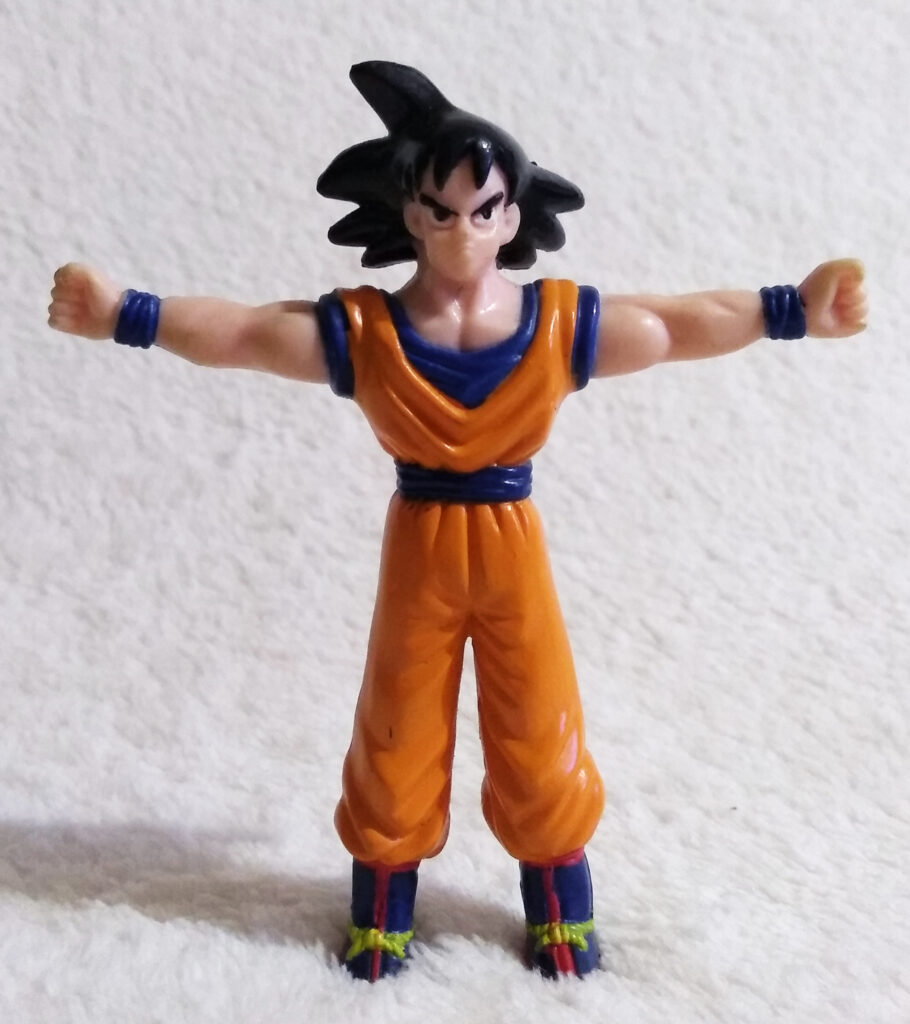 Series: Dragon Ball Z
Company: AB Groupe (Re-released by KidzBiz and Irwin Toy)
Year: 1996, 2000
Size: +/- 9cm
Main distribution: Europe, America
---
These bendable figures also known as the "Flexible Super Guerriers" (Flexible Super Warriors) were made by the AB Groupe. AB Groupe (now Mediawan Thematics) is a French broadcasting group, and the distributor of the Dragon Ball merchandise for European and Canadian markets. They made the English dub for the Dragon Ball Z movies in the Netherlands (based of their French dub), with awkward changes like Piccolo being "Big Green" and the Saiyans "Space Warriors". As terrible as that dub was, their toys were one of the first you could get in Europe. Here you'll find the flexible figures of them. They made 8 different ones, 4 which later got re-releases under KidzBiz and Irwin Toy.
Alongside their Action Figures, Super Guerriers Articule (Articulated Super Warriors), and their smaller figures Super Guerriers (Super Warriors), AB Groupe also made a set of bendable figures, Flexible Super Guerriers or Flexible Super Warriors. Made of a flexible rubberlike plastic, and a strong bendable metal pin inside, you can move their arms however you wish.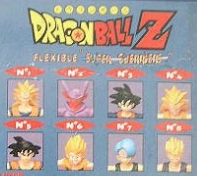 8 different figures were released in 1996. These came in unique packaging that looked like a mix of a blister pack and a box that could stand upright.
The figures made were Super Saiyan 3 Goku (Nº 1), Janemba (Nº 2), Goten (Nº 3), Super Saiyan 3 Gotenks (Nº 4), Goku (Nº 5), Super Saiyan Gotenks (Nº 6), Trunks (Nº 7) and Super Saiyan Gohan (adult) (Nº 8).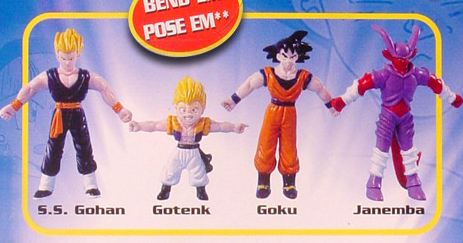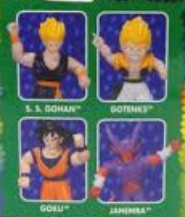 4 of these got re-released in 2000 under KidzBiz with their "The Legend is Here" packaging as Flexible Figures, and Irwin Toy with their "The Saga Continues" packaging as Bendables. Both of these sold them on Blister Packs.
The figures are Super Saiyan Gohan (adult), Super Saiyan Gotenks, Goku and Janemba.
I used to have 3 of these; Super Saiyan Gohan (adult), Super Saiyan Gotenks and Goku from KidzBiz, but I have since sold them. I got another Goku in a lot recently, so I could take pictures and put him on the blog.
As far as I know, there are no differences on the figures between the releases.
Nº 5 Goku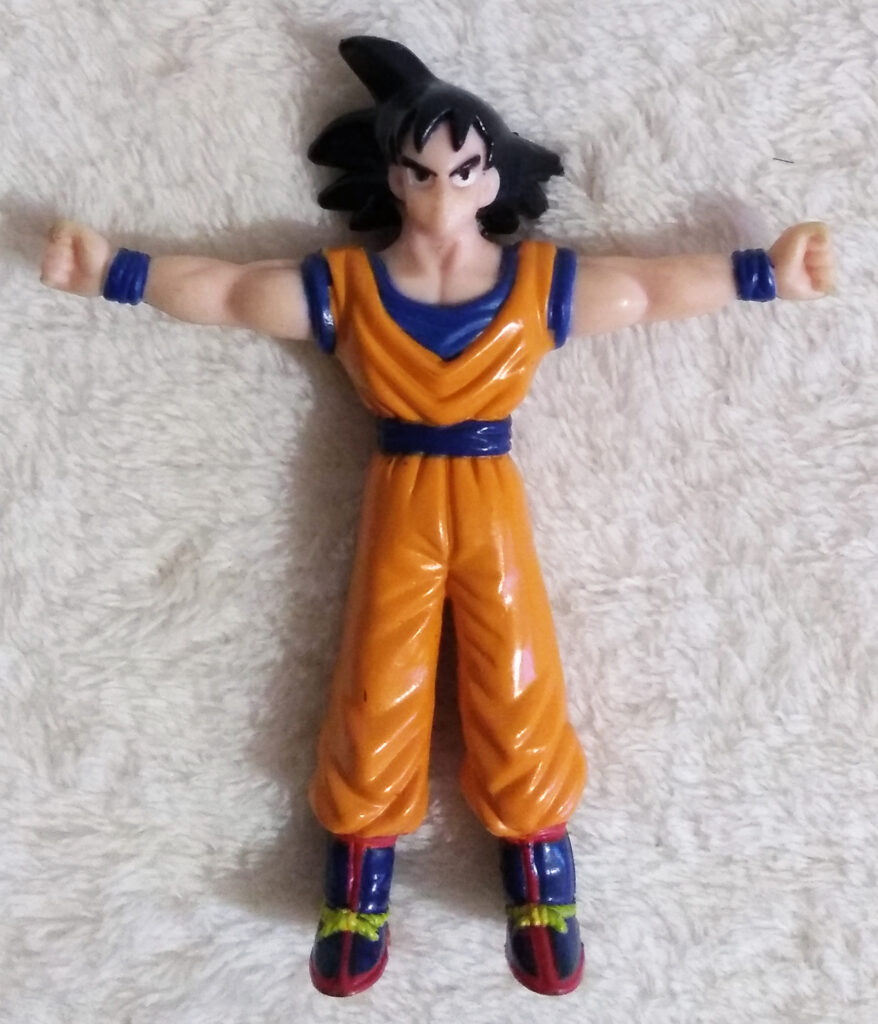 Goku is wearing his trademark orange gi, without a master's symbol. He has a stern expression on his face. His hands are 2 fists. He stands "T-posed", but his arms can be bent however you wish. The plastic overal is quite flexible and has some give.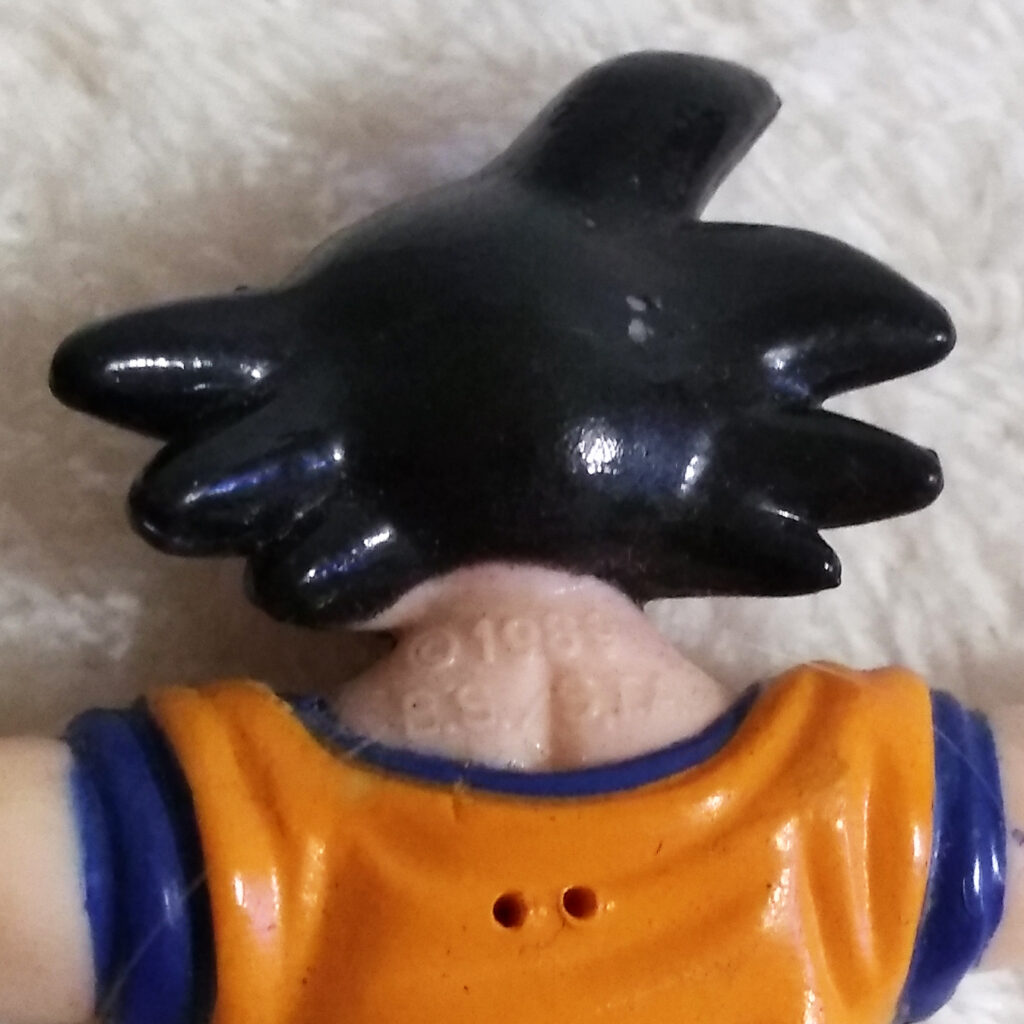 He has in raised font © 1989 B.S./S,T.A. on the back of his neck. Under his left foot is CHINA printed in black. On the back between his shoulder blades, and on his elbows are 2 holes.
---
I was a massive Dragonball fan at the time, and one of the first series I truly collected besides the Lion King. I spent all my pocket money on these, and harassed my family to go out to the bigger cities so I could buy these once I had saved up some.
My aunt would regularly drive me to Aachen just over the border in Germany. There was a large department store where on the top floor were some toys. Here I found lots of the KidzBiz figures.
This is also were I found these Flexible Figures; Goku, Super Saiyan Gohan and Super Saiyan Gotenks. It didn't matter to me who or what it was, if it was Dragonball Z I bought it. I remember them being quite cheap at the time, so I bought all the figures they had at the time there. I recall being a bit upset there was no Janemba, as I assumed that was the full set.
When I started saving for Uni, I sold a lot of my collection. These were kinda derpy to me, and I figured I was never going to get Janemba, nor did I care for these 4 characters in particular.
I never missed these to be honest. I never played or bended them (they are quite hard to bend in my opinion, and I was scared of breaking them), so they just stood T-posed on my shelf. Their faces aren't particularly great either. Just a bit of fun random merchandise. They are if anything unique!
My only regret was not being able to blog about them here. I got a Goku again in a lot of AB Super Guerriers, so I can at least do that now. That's when I found out there were 4 more of these! I have never seen these 4 however, not even images on the internet… I might actually like the Trunks and Goten of these, as I played lots with their AB Super Guerriers Articule and they remind me of them.
Other than that, I have no interest in these. I can't collect everything after all, so this Goku will be for sale again. If I do manage to get any others in lots again I will of course add them. Any maybe, if I ever find it, I will get Trunks or Goten for keeps.
If you like vintage, European, or unique Dragonball Z merchandise, you might want to look into these. If you'd like more modern high quality stuff, you might give these a miss.
---
Got any more details / information you think I should add? Or did I get something wrong? Do you own any of these figures? Which one is your fav? Do you agree or disagree with my findings? Let me know in the comments below!