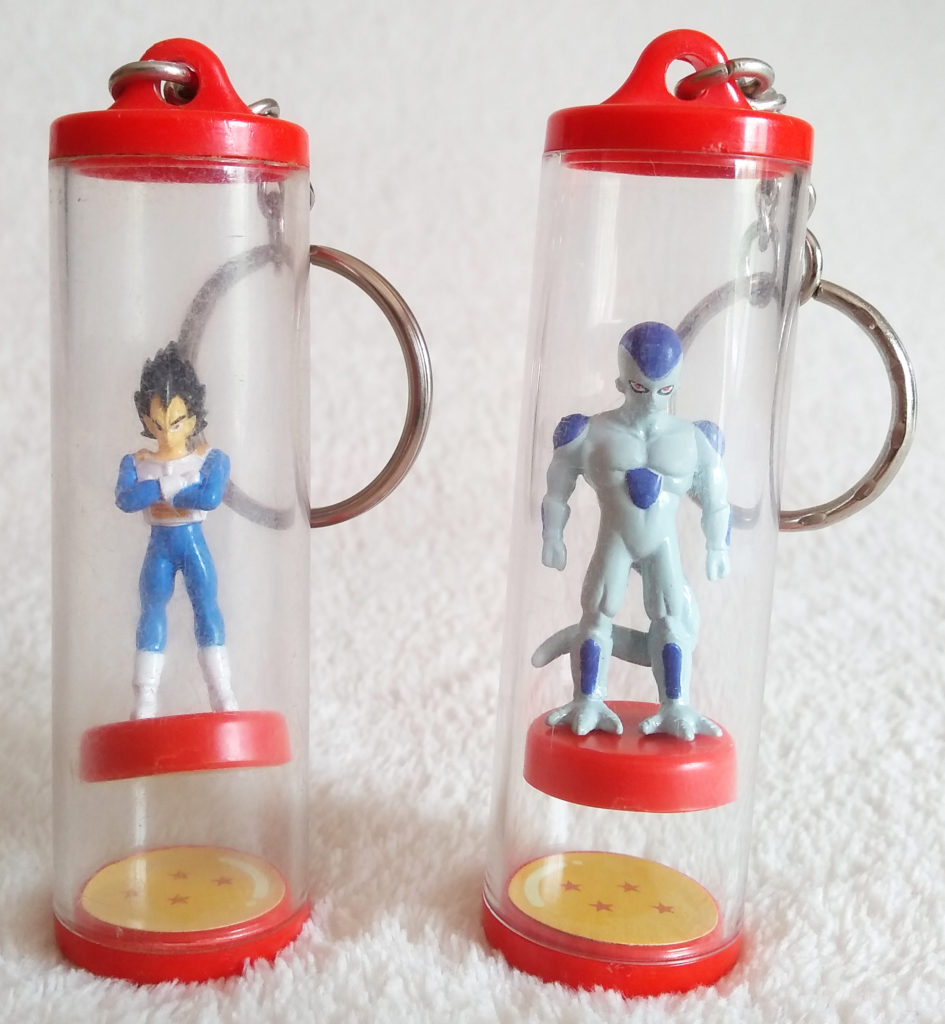 Series: Dragon Ball Z
Company: MGA entertainment
Year: 1999
Size:  8.5 cm
Main distribution: America / Europe
Barcode: 035051243007 (Piccolo)
---
These are little figures on a magnetic base in a tube keychain. The magnet causes them to float.
MGA entertainment, mostly known for the Bratz and L.O.L. Surprise! dolls, made some Dragonball Z merchandise in the late 90s. The most known is probably their walkie-talkies looking like action figures. Everything came in a simple green packaging, with some stock images of Goku on it.
These keychains were little figures on a magnetic base in a tube. On the bottom of the tube is another magnet. The poles are opposite causing the figure to float. "Cool magnetic bouncing action" was a selling point on the packaging.
All of them have the 4-star Dragonball sticker in the bottom.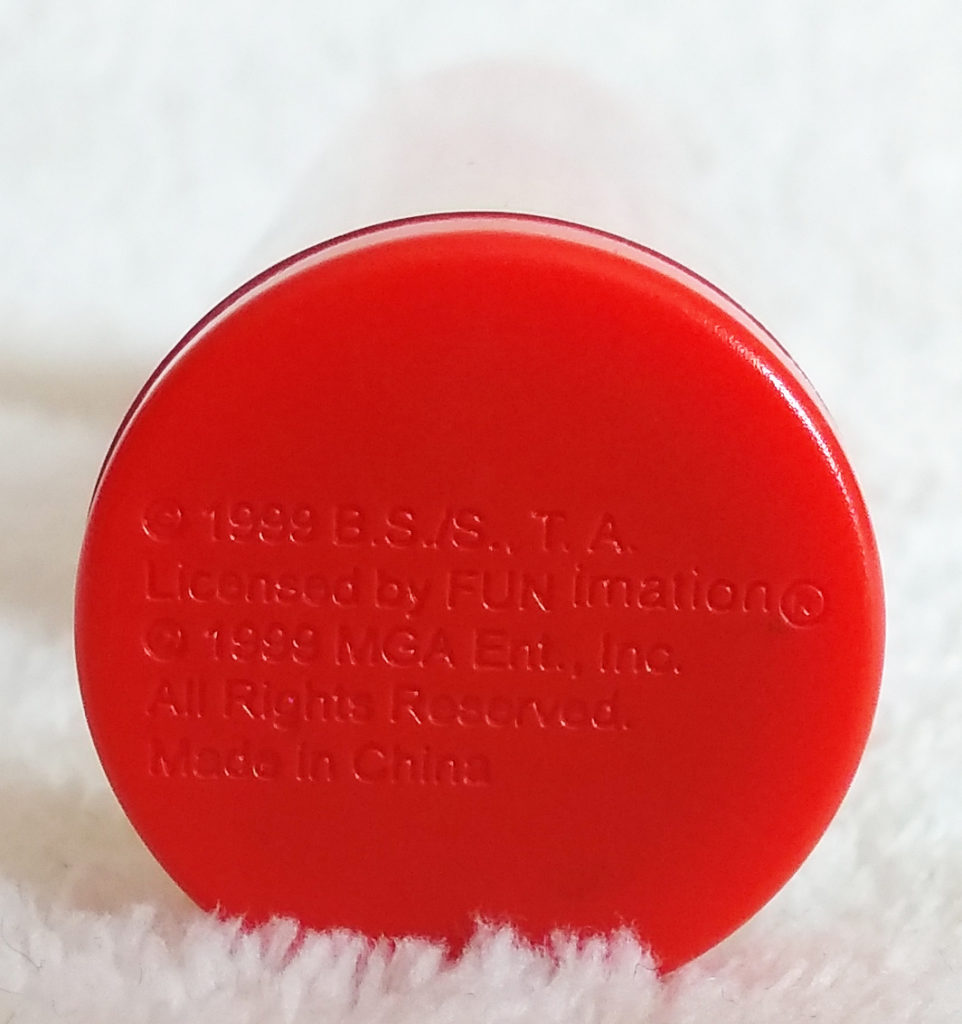 On the bottom is the branding. It reads in indented font: © 1999 B.S./S., T. A. Licensed by FUNimation® ©1999 MGA Ent., Inc. All Rights Reserved. Made in China
They made 6 of these keychains; Goku, Vegeta, Piccolo, Frieza, Super Saiyan Goku and Krillin. I got 2/6.
Vegeta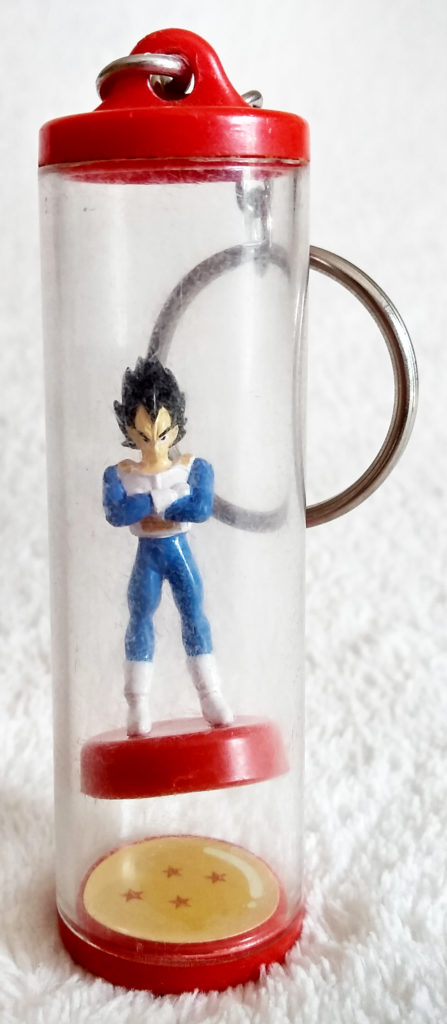 Vegeta is wearing the Saiyan armour Bulma made. His arms are crossed and he looks stern / angry.
Frieza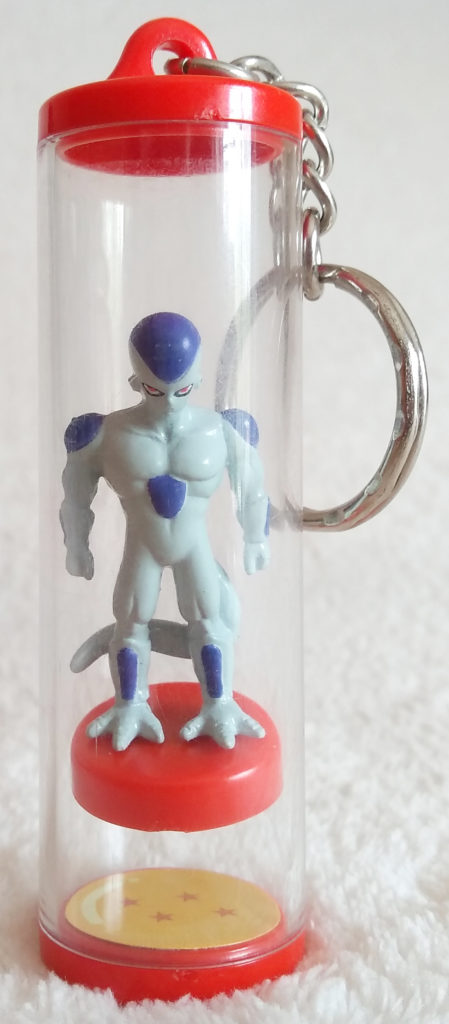 Frieza is in his final form. He stands straight and looks stern.
---
One day my mom came home with 3 of these Frieza keychains, 1 each for me and my younger brothers. She had found them at the local Intertoys (toy shop) and said these were the only ones they had. I went to look as I wanted Vegeta (my favourite) but it was true, there was only Frieza (I thought maybe she meant it was the only one they had 3 of, so we wouldn't fight over them…).
I kept it for years on the key of my closet, dangling of the door, never taking it out of the house or anything. Although I disliked Frieza, I thought the keychain itself was interesting. The floating character idea was novel, and it is fun to shake him up and down for this "bouncing action". I mentioned him to a friend of mine one day, and she told me she had a Vegeta. The next time we met, she gave it to me.
Vegeta had been used by her, hence his tube is kinda scratched. But I don't mind, it's Vegeta after all! I never saw the others…
It's such a weird little Western piece of merchandise, I don't know many people that have seen it. I've kept them all these years because they are fun, although I wouldn't go out of my way now to find any. They are just quirky and novel to me.
As far as Dragonball keychains go, because they are in a tube, they are kinda nice to use compared to the regular figures with their spiky hair. They are quite big though, so maybe more to dangle on a bag than for your house key.
If you like vintage or Western merchandise of Dragonball Z, or just want something quirky and unique for your collection, these might be up your ally.
---
Got any more details / information you think I should add? Or did I get something wrong? Do you own any of these? Do you agree or disagree with my findings? Let me know in the comments below.