-I no longer own this merchandise and this post has therefor been archived-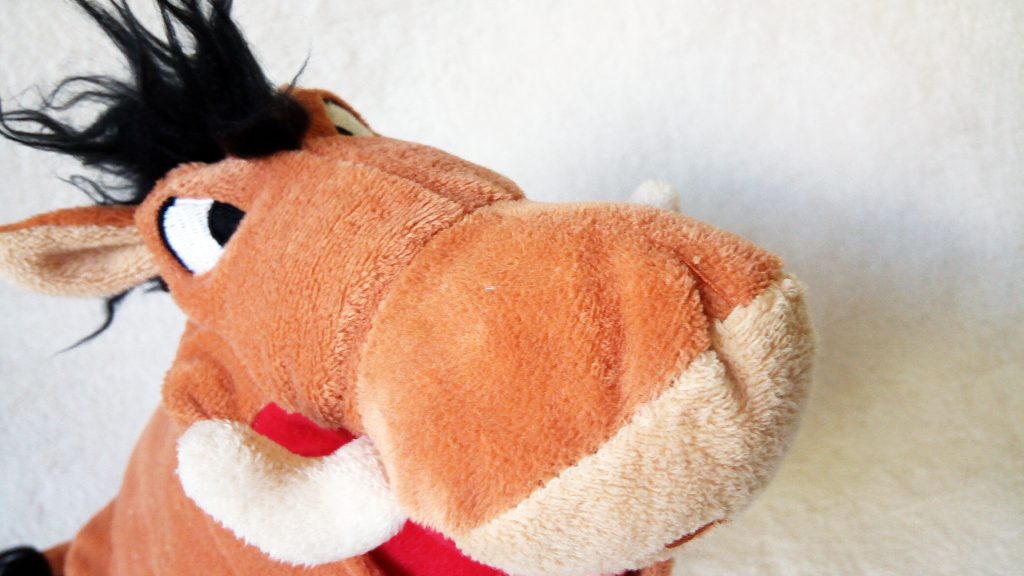 Series: The Lion King
Company: The Disney Store
Size: ~24cm
Made in: Vietnam
Main distribution: Worldwide (at the Disney Store)
---
This is Pumba from the Lion King, sold exclusively at the Disney Store.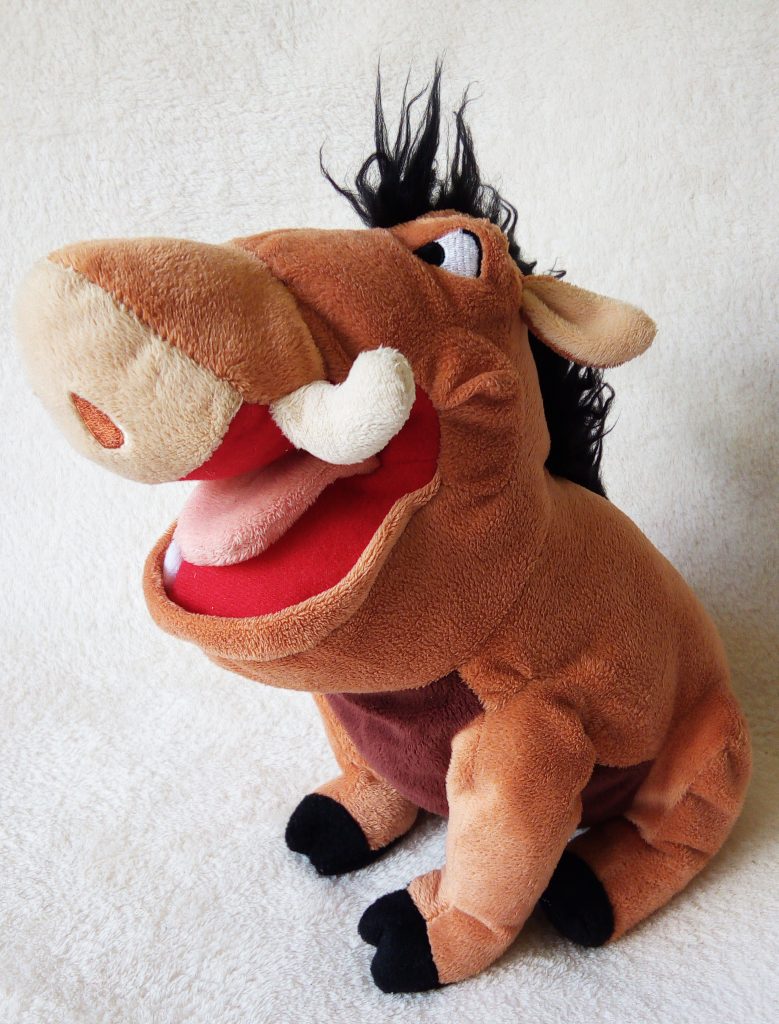 Pumba is in a sitting position with an open mouth. He is made of a soft material with a short pile, and has thick long black hair tufts for a mane and tail. The red on the inside of his mouth is of a cheaper material. His eyes and nose holes are embroidered.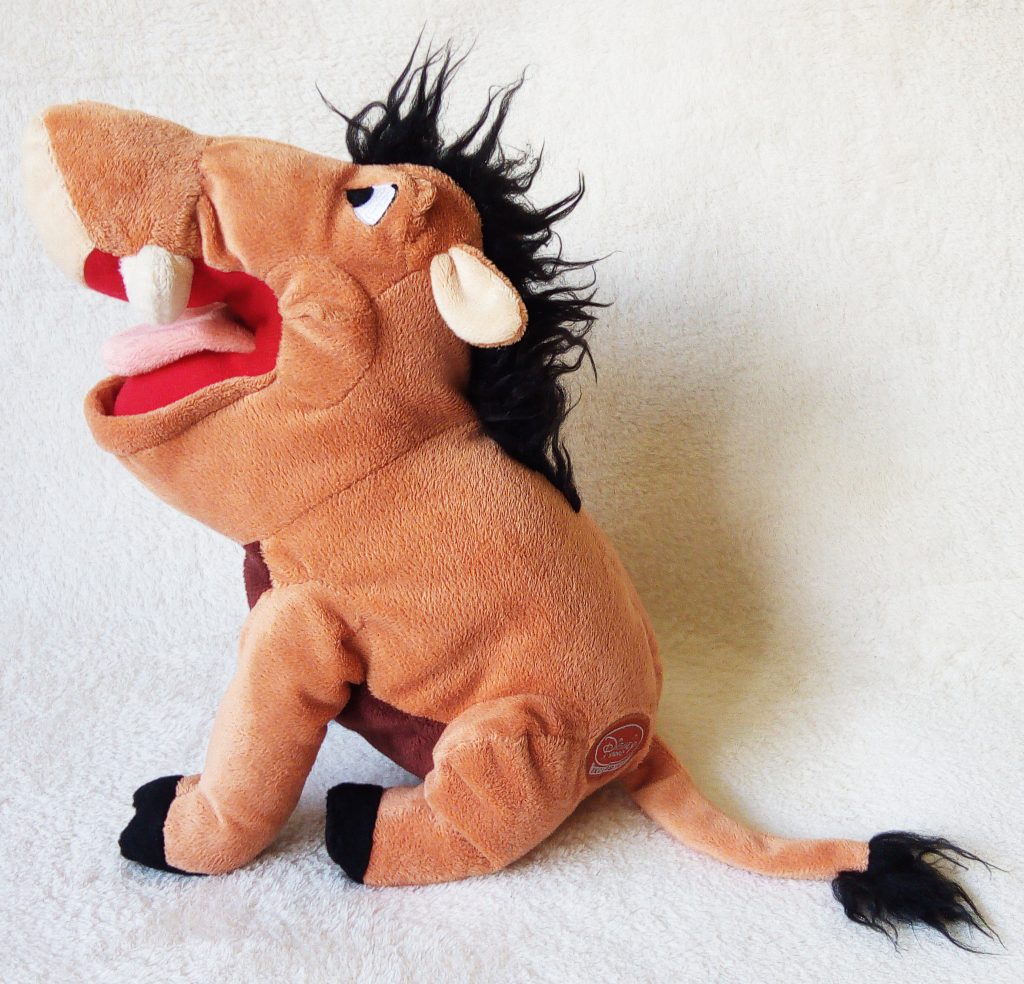 His proportions are off. His face is quite slim, and his body isn't as big as it is in the film. His legs / paws are quite thick compared to his movie counterpart, although I understand that would make for a better plush.

He is quite lightly filled and has pellets in his butt and paws. His tail, tongue, lip and ears do not appear to have filling.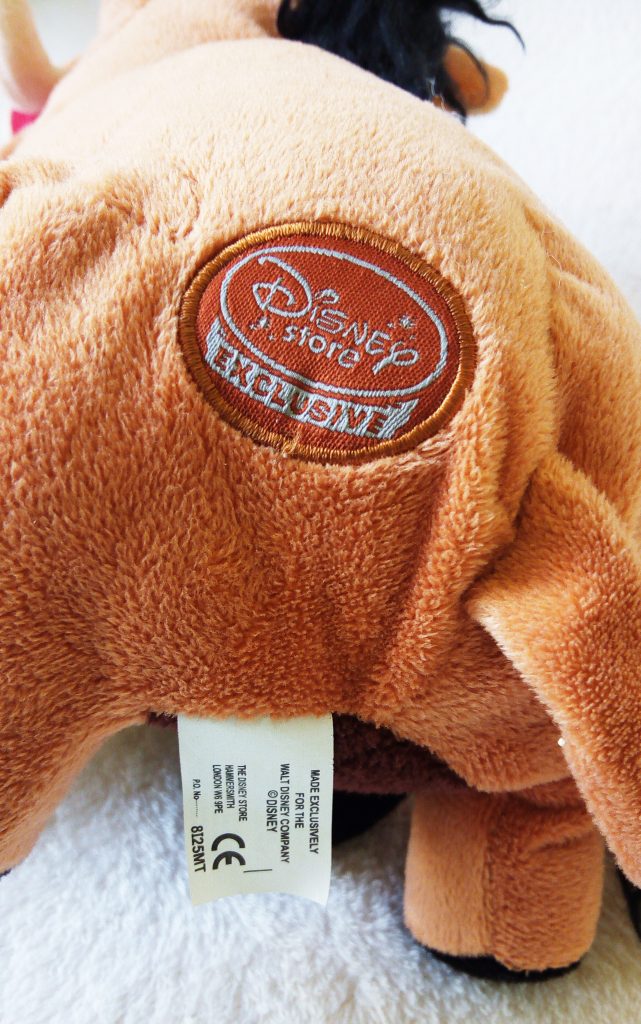 He has the Disney Store stamp on his butt on the left side. It's the older stamp which is oval shaped.
He used to have a hang tag on his left ear. It was red with the Disney Store logo on it and all their plushies on the front of it.
---
The Lion King is my favourite Disney movie of all times. As a 6 year old it was my first cinema experience and I fell in love with it. I have a weak spot for most Lion King stuff.
Pumba wasn't my favourite character though. And he was the one I did not have a plush of as a kid. I had a brown warthog plush that stood in for Pumba though (he looked very much like Pumba, maybe it was a Kimmies?).
I also always loved the stamped Disney Store plush. Their quality is amazing and they are as official as can be.
The Netherlands doesn't have a Disney Store, so finding these (usually secondhand) was always such a magical experience. As a kid, I wanted to collect them all.
Now I'm living in the UK where most major cities have a Disney Store, some even two! The magic has slightly worn off I must say, but it's still a treat to go the shop and look at all of the stamped plush. Now however, they have decided to stop making stamped plush, so they can shuffle their inventory between the Disney Stores and Parks easier. It makes sense business wise, although it is a bit sad as I loved the quality these stamps invoked.
When I found this Pumba in a charity shop I instantly bought him. It was Lion King, it was Disney Store stamped, it was a no brainer. He carries the older oval shaped stamp, so I believe he is from pre-2012, but I'm not sure on the exact year. Pumba plush always look a bit odd (he must be hard to make a plush off!) but this one comes pretty close. He just needs to be a bit thicker imo.
However, I'm trying to downsize and focus the collection more. I'm trying to keep the things I truly care for, and sadly this Pumba isn't it. So he's up for sale. Hope I won't regret that, seeing as it's Lion King, but I have no others of this series with an oval stamp, so it's a bit easier to let it go.
I have sold him to a Pumba collector, so he has found a new good home.
There is nothing I can really fault on this plush, just personal preference. I still wanted to catalogue him here for fellow collectors. The photo's are, as always, of the actual plush in hand and not stock photos.
---
Got any more details / information you think I should add? Or did I get something wrong? Do you own the same plush? Do you agree or disagree with my findings? Let me know in the comments below!