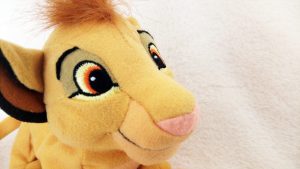 Series: The Lion King
Company: Buena Vista Home Entertainment
Year: 2003
Size: Around 15 cm (not including the tail)
Main distribution: Europe
---
This particular young Simba plush is a beanie, which was used as a promotional item by Buena Vista Home Entertainment. It was given away free at select places in European countries, when you purchased the Lion King on DVD or VHS back in 2003. It was the first DVD release and the second re-release for the VHS. It says on the tag it was made exclusively for Buena Vista Home Entertainment, which is Disney's DVD distribution arm. This plush was never for sale in stores and purely a promotional item.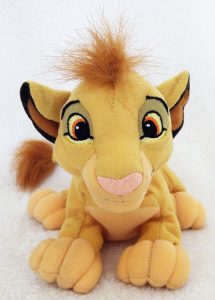 This is a small plushie of only 15 cm. His eyes are fully embroidered as well as his mouth, and he has a fabric nose. He is made of a fabric with a very short pile, but has long tufts of hair on his head and tip of tail.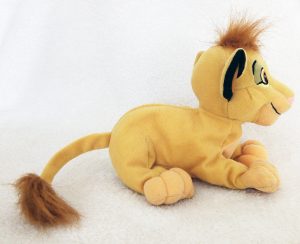 As he's a beanie, he has pellets inside him that gives him a floppy nature. This gives him quite a range of motion which is great for play, but you can't pose him very well due to his floppyness. His paws / toes and head are thick and sturdy, and are properly stuffed.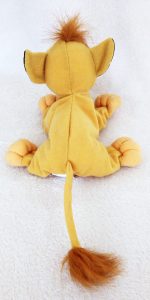 His colours are fairly movie accurate. He has a darker yellow fur, with a lighter underbelly, paws and muzzle. His tail has a dark brown tip and his ears have a black rim and are brown inside. The only thing inaccurate (yet many Simba plush have) is the dark brown tuft of hair on top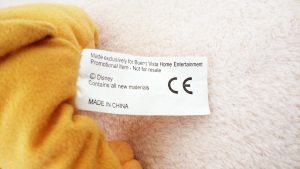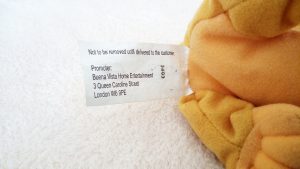 Its Tush Tag is located on his bum on his left side. It says it is made exclusively for Buena Vista Home Entertainment. Promotional Item – Not for resale. Further it contains all the usual information like copyrights and CE logo.
It had a very plain hang tag hanging on its ear. It said in big bold letters "FREE", then below that "Simba Bean Bag Toy", "When you buy", The Lion King Special Edition logo, "on Disney DVD (logo) or Video" and in small print "Made exclusively for Buena Vista Home Entertainment." On the inside it had the usual safety warnings and same info that is on the tush tag. The back has a UPC / bar code (5017188889339) and catalogue number (P888933).
---
The Lion King is my favourite Disney movie of all times. As a 6 year old it was my first cinema experience and I fell in love with it. I have a weak spot for most Lion King stuff, especially Simba.
I already had the Lion King on VHS of course, and we didn't get DVDs till very late in my household, so I completely missed that 2003 release. I never saw these beanies really, but then suddenly found 2 in a charity shop in the UK 15 years later.
I'm not a big fan of beanie plush though, but it's hard to say no to Simba. I also find promotional items pretty cool, as they are usually limited. However, European promotional stuff is often also fairly cheap. I have seen more beanies from Buena Vista in the UK recently though, so I feel they have done these more often with their Disney films.
This plush isn't worth that much, as most beanies are, but for the right collector it might be. I'm keeping mine for now, and I sold the second one I found.
I'm sure Lion King / Simba collectors like this plush. For me, it's not my favourite, but it's a cute, little Simba to add to the collection.
---
Got any more details / information you think I should add? Or did I get something wrong? Do you own the same plush? Do you agree or disagree with my findings? Let me know in the comments below!