-I no longer own this merchandise and this post has therefor been archived-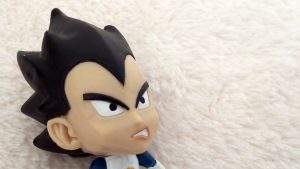 Serie:  Dragon Ball Z
Company: Jakks Pacific
Year: May 2004
Size: 5.5 cm
Main distribution: USA
---
This is a Vegeta figure from Jakks Pacific in a Chibi form. Jakks Pacific released several Dragonball Z Chibis characters in 2004.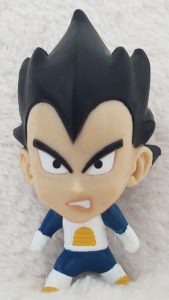 The figure is quite small and only about 5.5 cm tall. As a Chibi his proportions are super deformed, and is therefor about 2 heads tall. Vegeta wears his training uniform that Bulma made for him. He has a typical angry expression on his face.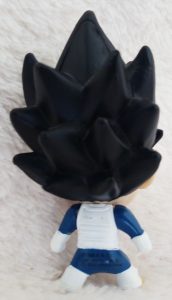 Despite the figure existing out of mostly a head with spiky hair and a tiny body, the figure can stand up on its own quite easily. The feet are placed apart and diagonally, giving it a good balance.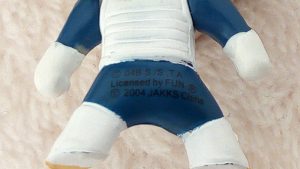 The branding is on his butt. It reads:
© 04 B. S./S., T A
Licensed by FUN ®
© 2004 JAKKS China
They came in plastic see-through balls, about the size of a tennis ball. The packaging called them Dragonball Z Chibis. There were also 3-packs. There is also a limited edition golden Chibi Vegeta that came with a Jakks figure of Battle Damaged Vegeta from the Frieza Saga. Only a 100 were made and you could get these at the New York Toy Fair in 2004. These were a sample of the Dragonball Z Chibis that were being released later that year. The golden Vegeta is exactly as this figure, but completely golden painted.
---
I remember finding this Vegeta on an old Dragonball forum back then. I had never seen this one before, which wasn't a surprise seeing it came from America and me being in Europe. I used to love Chibis, and anything Vegeta, so I bought it.
Nowadays I no longer find Chibis that appealing, and rather have more accurate proportions. I still like some Chibi here and there, but 2 heads is quite a deformation. I also don't like his expression. Or to be more precise, his lips I find incredibly odd looking. Also without the line around his eyes it just looks weird to me.
That said, the detail is quite nice on this figure. The lines on his outfit are accurate and the paint doesn't come across as sloppy. Considering it's small and cheap the quality is surprisingly high.
Now that I'm downsizing though, I've decided to sell him. It isn't the most expensive figure out there, despite rarely seeing these. They retailed for $2.99.
It just comes down to personal preference, and I'm sure someone else would give him a lovely new home. I no longer own this figure.
I still wanted to catalogue him here for fellow collectors though. The photo's are, as always, of the actual figure in hand and not stock photos.
---
Got any more details / information you think I should add? Or did I get something wrong? Do you own the same figure? Do you agree or disagree with my findings? Let me know in the comments below.