-I no longer own this merchandise and this post has therefor been archived-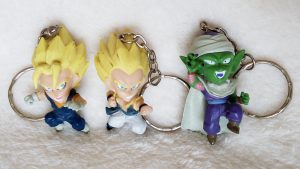 Series: Dragon Ball Z
Size: +/- 5 cm
Main distribution: China
---
These are keychains of Dragon Ball Z characters in a Chibi form. These are probably bootlegs, but I haven't seen a legit version of these. These appear to be from the Fusion Saga.
As a young teen I bought everything Vegeta and Trunks related, so somehow I also acquired this lot of keychains with Vegetto, Gotenks and Piccolo. I believe there is also a Mr Satan and Gohan training for his mystic form. I can't find anything about them, apart from the fact they come from China. I have a strong reason to believe these are bootleg figures, but I couldn't find a legit version of these.
Vegetto
Vegetto wears his blue and orange gi and is Super Saiyan. He appears to be flying and in an action pose, ready to pack a punch.
Gotenks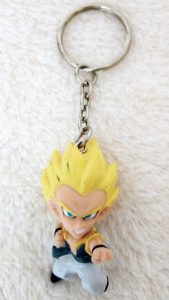 Gotenks wears his fusion outfit and is Super Saiyan. He appears to be flying and punching, with a confident grin on his face.
Piccolo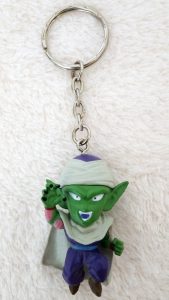 Piccolo wears his uniform, including weighted hat and cape. He appears to be jumping upwards or flying and is in an action pose, ready to pack a attack.
---
I loved Dragon Ball Z from the start as an early teen but there was so little to find back then. Then the internet became a thing and before I knew it I had discovered eBay! I bought loads of things, including this bundle.
I used to love Chibi figures. They looked cute! Nowadays though I prefer more accurate proportions.
As I started downsizing I've been looking more for quality than quantity now. Lately I also find my Dragon Ball purchases gravitating to more mundane poses rather than the fighting ones. It's like there is too much power fighting / stances in the Dragon Ball world. My favourite Akira Toriyama drawings are also the ones you hardly see in the show itself, and portray more mundane actions.
I find the quality very lacking of these, the painting is sloppy and the colours are dark. Even the key chain feels cheap. I considered just using them, however, as a keychain, they are awful as they can be quite pointy and there are lots of little bits sticking out.
I also think I got a lot of fakies as an unaware child, so these are going first obviously. However, I couldn't find a legit version of these, so I decided to put them up on the blog anyway.
The photo's are, as always, of the actual figures in hand and not stock photos.
I no longer have these in my possession.
---
Got any more details / information you think I should add? Or did I get something wrong? Do you own the same keychains? Do you agree or disagree with my findings? Let me know in the comments below!