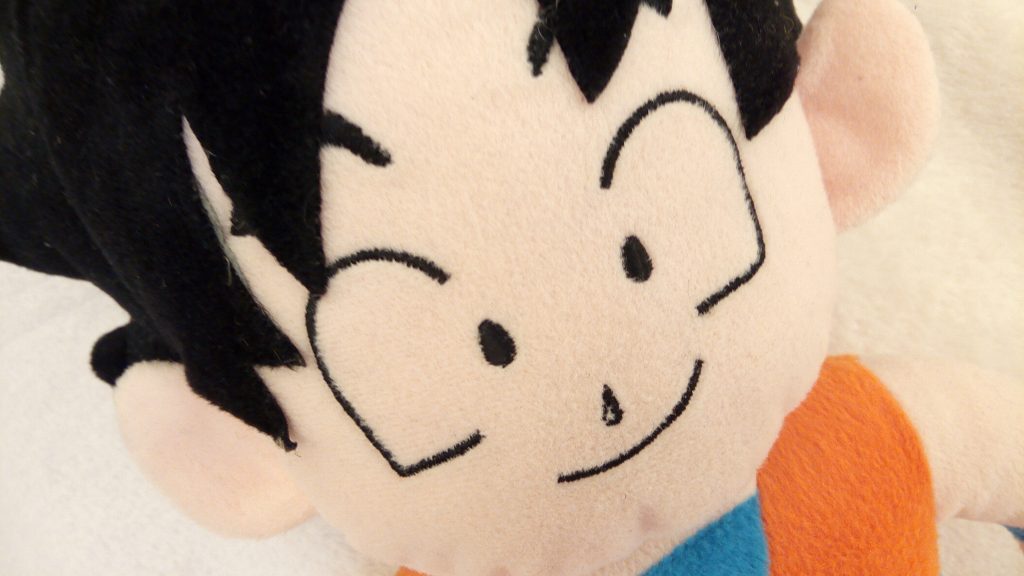 Series: Dragon Ball Z
Company: Sip Toys (licensed by Toei Animation)
Size: 32cm
Main distribution: Italy / Europe
---
This is a large plush of Goku, licensed by Toei Animation and distributed by Sip Toys in Italy.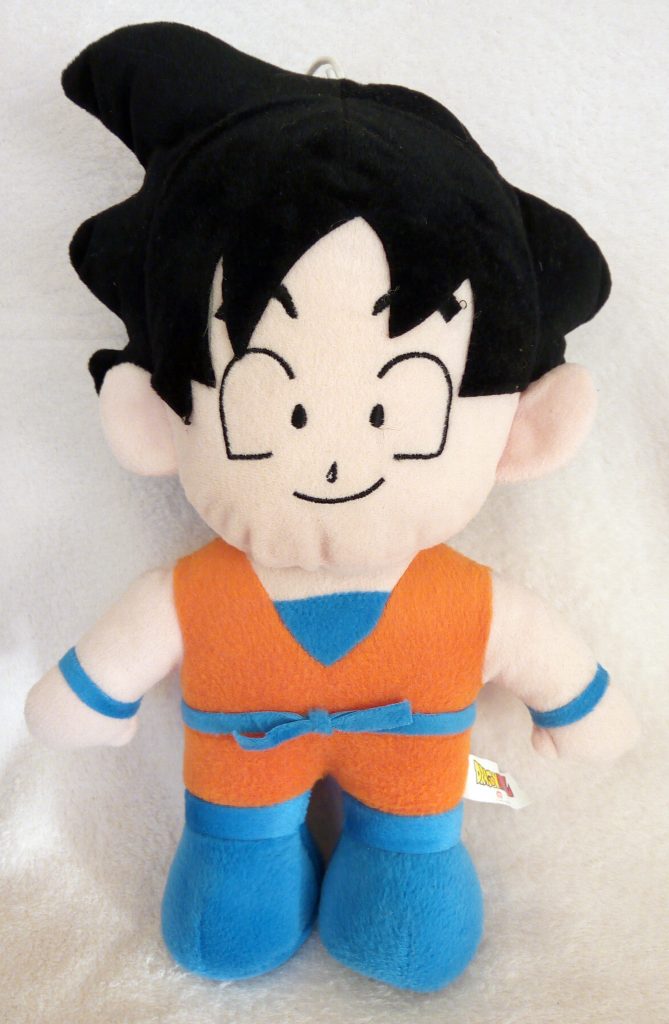 This plush of Goku is standing up in a neutral pose and looks happy. He has his iconic outfit on, the orange and blue gi, without any symbols. His face is fully embroidered and features the simple, iconic happy eyes.
His proportions are of a Chibi style, and he's 2 heads big, with chunky feet. He can't stand on his own, as he's top heavy and his legs don't support him.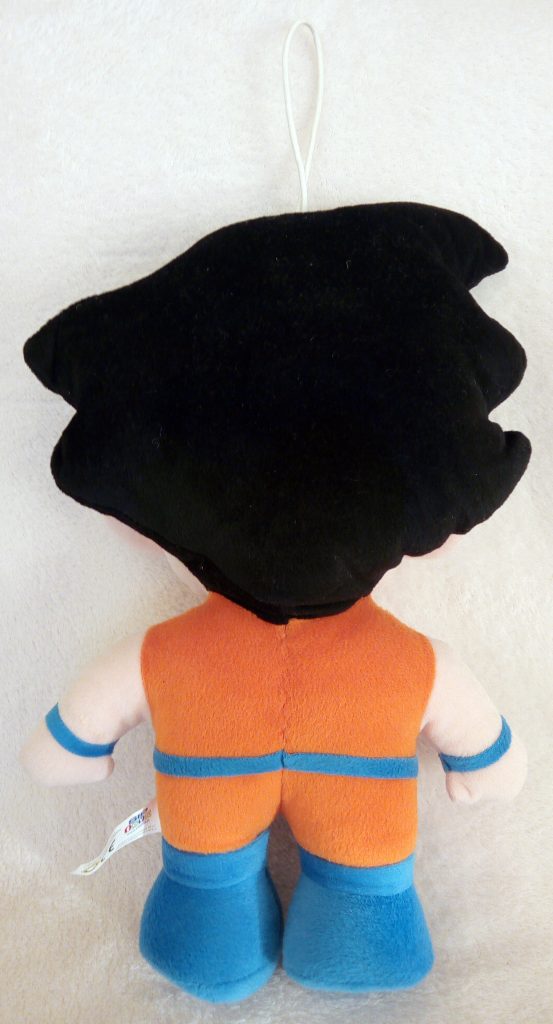 He is made of a soft but thin material with a short pile (polyester according to the tush tag). The same material seems to have been used for the entire plush. On his head is a drawstring.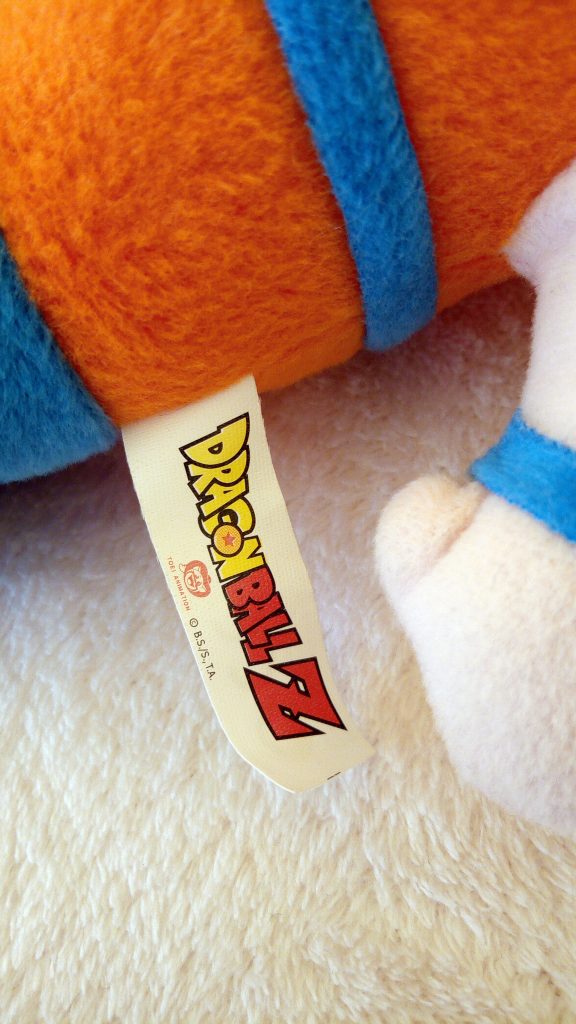 His tush tag is on the side of his left leg. On the front it has the Dragonball Z logo, and Toei Animation.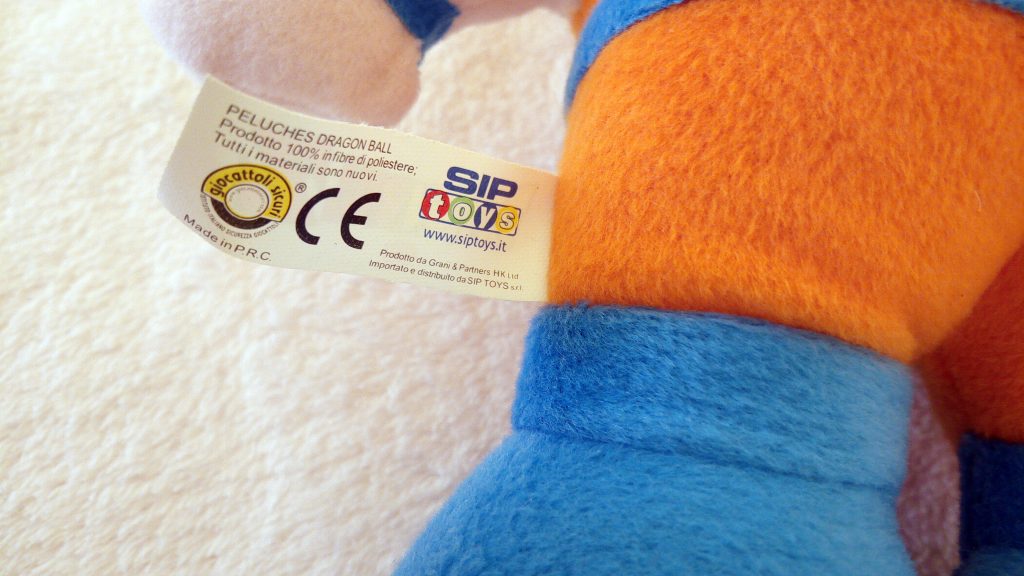 On the back it has Sip Toys and their website, the CE marking and the Italian safety logo, as well the material it was made of.
Its hang tag, which I don't have, was attached to his ear and is blue. It features the Dragonball Z logo and Goku doing a Kamehameha behind it.
It appears to be a copy of the first Banpresto UFO plush of 1992 of Goku as they look very similar, possibly repurposed for Europe. Instead of iron-transfer stickers for face it's fully embroidered though. Either to modernise it or simply because they didn't have the artwork for it. Whereas the 1992 plush looks stern and angry, this one looks happy.
---
I've been a long time fan of Dragonball Z. As a young teen I watched every episode, waiting a week for the next one every time.
I started collecting the cards and figures, but had never found a plush of it. I had never even seen Dragonball plush till 2009, when I was in Sydney, and also around the time I became more picky in my collecting.
I never liked plush of people. People aren't soft. Animals, sure, but people, no. So I never had an interest in these. They always looked odd to me. I have lots of Dragonball figures though, but no plush.
My mom found this Goku on a market and easily recognised him. Knowing I like Dragonball Z, she bought him for me. And I've kept him. I liked that it was an European plush. Mostly these things come from Japan or America, so finding something closer to home is always cool and intriguing to me.
But now that I'm downsizing, it wasn't a hard decision to let this one go. I don't like human plush, I don't like plush that can't stand on their own, and I find the material kind of cheap feeling and the stitching looks a bit off here and there. It is more a kids' toy than a collector's item in my opinion.
But this is all personal preference of course. There is nothing wrong with the plush itself. I hope he finds a new home where he will be much more loved.
I still wanted to catalogue him here for fellow collectors. The photo's are, as always, of the actual plush in hand and not stock photos.
---
Got any more details / information you think I should add? Or did I get something wrong? Do you own the same plush? Do you agree or disagree with my findings? Let me know in the comments below!