-I no longer own this merchandise and this post has therefor been archived-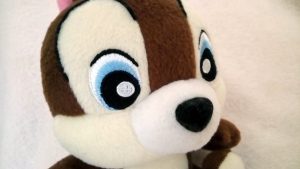 Series: Chip 'n' Dale
Size: 14 cm high
---
This is Chip from Disney's duo Chip 'n' Dale. He's Super Deformed (SD) or Chibi as the Japanese call it, meaning his head is the size of his body.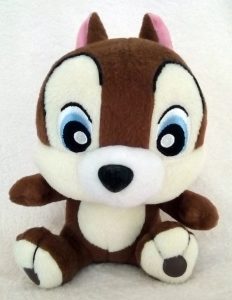 This Chip plush is a cute size at 14 cm high. He is in a sitting position with all paws sticking out to the front. Its eyes are fully embroidered and the nose exists out of a hard, black button but has a soft touch. The inside of his feet seem printed or pasted on.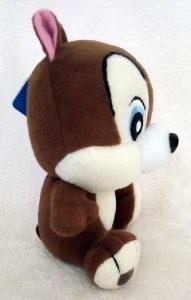 His proportions are way off. This Chip is about 2 heads big, which makes this more of a chibi Chip. His legs and arms are short, chubby and stubby. His eyes are quite large, taken up the majority of his face, as well as his hands and feet are enlarged. It adds to the overal cuteness of the plush.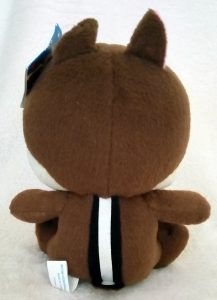 His back black stripe seems to be of some sort of felt, with the white stripe printed or glued on. The plush is very stiff and firmly filled, making it well sculpted and easy to sit.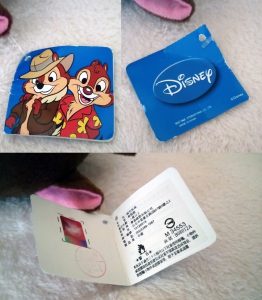 Its hang tag is located in its ear. It's fairly standard, blue with the Rescue Rangers at the front and a generic Disney logo on the back. The inside has a holographic Mickey Mouse sticker, and some Chinese text, that indicates what the plush is made of, where it's made and some safety words.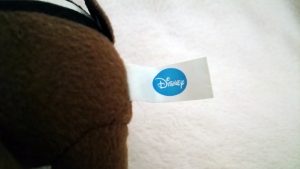 Its tushtag is located on its butt, and is equally generic. A blue circle with Disney on one side, and "best b&b international co., ltd, made in china, ©Disney" on the other.
---
Chip 'n' Dale are my favourite classic Disney characters. Probably because I had chipmunks as pets when I was a child. I always liked Chip more, as I could relate to his logic and focused approach whereas Dale was always more goofy and dumb.
I actually don't know much about this plush at all! I won it in a crane game in a small arcade in Sydney, Australia during my stay there. It was Chip. It was Chibi. I had to have it. I think it wore a dark blue beanie and t-shirt with bling that said "bad boy", which I quickly got rid off.
Back then I really liked SD or Chibi. It was cute. Now I like more "realistic" proportions, or as close to their original design I guess.
I'm also not a big fan of "teddy" posed characters (sitting with paws sticking out).
As I need more space for other things and having too many plush, it is with heavy heart I'm re-homing this guy. I love Chip, but I got Chip plush I like more.
And besides, I rather have plush I know more about or are "official".
(I hope I don't end up regretting this!)
I still wanted to catalogue him here for fellow collectors. The photo's are, as always, of the actual plush in hand and not stock photos.
---
Got any more details / information for me to add? Or did I get something wrong? Do you own the same plush? Do you agree or disagree with my findings? Let me know in the comments below!