-I no longer own this merchandise and this post has therefor been archived-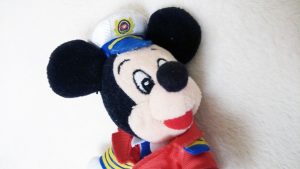 Series: Disney Cruise
Company: Walt Disney World
Year: 2009
Size: 15 cm
Main distribution: USA
---
This is a Mickey Mouse from the Walt Disney World park in Florida.  He wears a captain outfit from the Disney Cruise line and has magnetic gripping hands.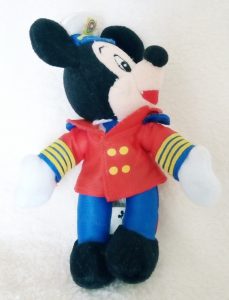 It's a tiny plush that's about 15 cm tall. He is in a standing position but can't stand on his own. He has magnets in his hands to grip things. Mickey wears a red captain jacket with blue and yellow details. Underneath it he wears a white shirt and blue tie. He has blue pants with a red line on the side, made from the same silky material as the jacket. On top of his head he wears a captain's hat.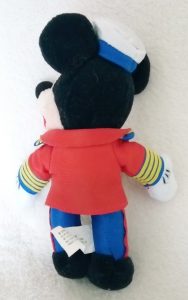 Mickey has no tail. His hands, feet and head are made of a soft plush material with a short pile. The only hard thing on this plush are the magnets inside the hands.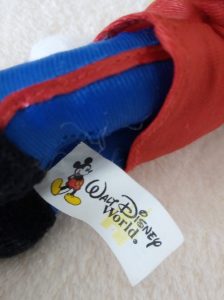 His tush tag is a standard Walt Disney Worlds one. It features Mickey Mouse, with a yellow Disney Castle and Walt Disney Worlds on it. The back has the usual copyrights, materials and where it was made.
---
I got his Mickey from a co-worker who was getting rid of some toys. As it was an official Disney plush, I couldn't say no. I'm not sure if these are from the park or from the cruises, but I do know it's from the Disney Cruise line of around 2009 I believe. The tush tag says Walt Disney World though.
It has sat on our fridge for a while, holding notes for us. It's a cute magnet which is functional, but it was making the fridge look a bit busy with the other magnets we got.
Having a clear out, I've decided to let this one go. Had I been on a cruise and gotten it as a souvenir I would have probably been more attached to it, but seeing it was just a freebie I don't feel much for this one. Nothing to fault on the plush though, but I can't keep everything and I got others I rather keep.
I still wanted to catalogue him here for fellow collectors. The photo's are, as always, of the actual plush in hand and not stock photos.
---
Got any more details / information for me to add? Or did I get something wrong? Do you own the same plush? Do you agree or disagree with my findings? Let me know in the comments below!