-I no longer own this merchandise and this post has therefor been archived-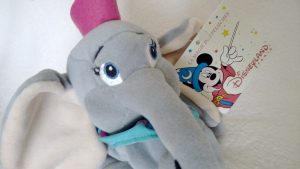 Series: Dumbo
Company: Euro Disney
Size: +/- 15 cm
Main distribution: Disneyland Paris
---
This is a Dumbo plush that was sold exclusively in Disneyland Paris. It is a beanie, so it is very floppy with little pellets inside him. The tag calls him a "Dumbo Mini Peluche".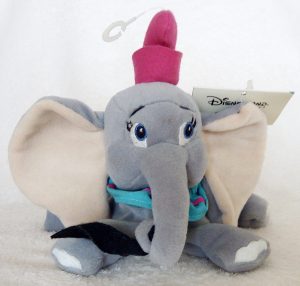 It's a small plush, around 15 cm big. However, due to its beanie nature he can be squashed a lot more. Dumbo is a grey colour rather much like his animation. His eyes are embroidered. He wears a dark pink hat and a blue with pink collar, and holds his little black feather in his trunk.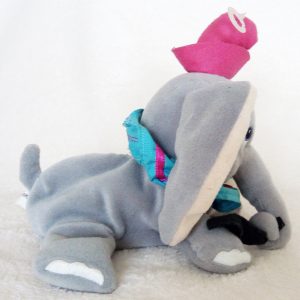 Dumbo feels a bit felty. He has a very short pile. His limbs are soft and hang by gravity. As a beanie, his proportions are naturally awful. However his face is nicely sculptured. The feather he's holding looks more like a leaf in my opinion, and is way too large (as big as his trunk!).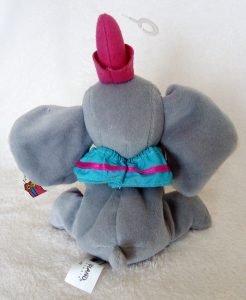 Due to the pellets in his body he can fairly easily be posed and sit.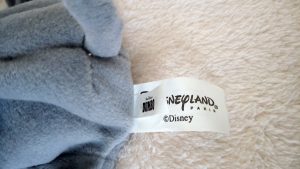 Its tush tags are fairly standard, One with Disneyland Paris, and another with Dumbo, located on his butt.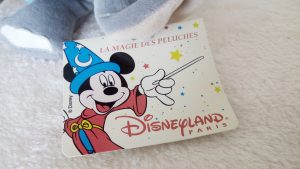 It has a hang tag in its ear, that's a pretty standard Disneyland Paris one. It's from the "La Magie des Peluches" line. It features a white backgrond with Fantasia Mickey Mouse and red, blue and yellow stars. Mine has some sun damage and is slightly bent and creased.
---
I like the Disney park pluche. Their quality is often the same if not better than the Disney Store plush and often have unique, exclusive pluche too. They are also as official as can be.
Surprisingly, I've never been to Disneyland Paris yet, despite being relatively close in Europe.
My mom found this guy in a charity shop and knowing I love Disney bought it for me.
However, I don't like beanies very much and Dumbo isn't my favourite either. The plush is extremely floppy and everything you expect from a small beanie though. It's just personal preference.
Needing the room / money, I have decided to sell him and only keep my favourite characters. I no longer possess this plushie.
I still wanted to catalogue him here for fellow collectors. The photo's are, as always, of the actual plush in hand and not stock photos.
---
Got any more details / information for me to add? Or did I get something wrong? Do you own the same plush? Do you agree or disagree with my findings? Let me know in the comments below!