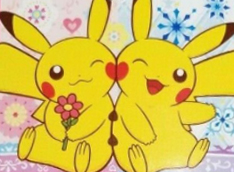 Company: Pokémon Center Japan
Year: 2012
Size: 20 cm tall (incl. ears), 12 cm wide each
Main distribution: Japan
---
During the Valentine's period the Japanese Pokémon Center released a new line of Valentine Day merchandise. It was exclusive during the Valentine's period in Japan Pokémon Centers.
The 2012 Valentine line consisted out of couple plush, mascots, clear files and other merchandise.
I got the Pikachu couple plush.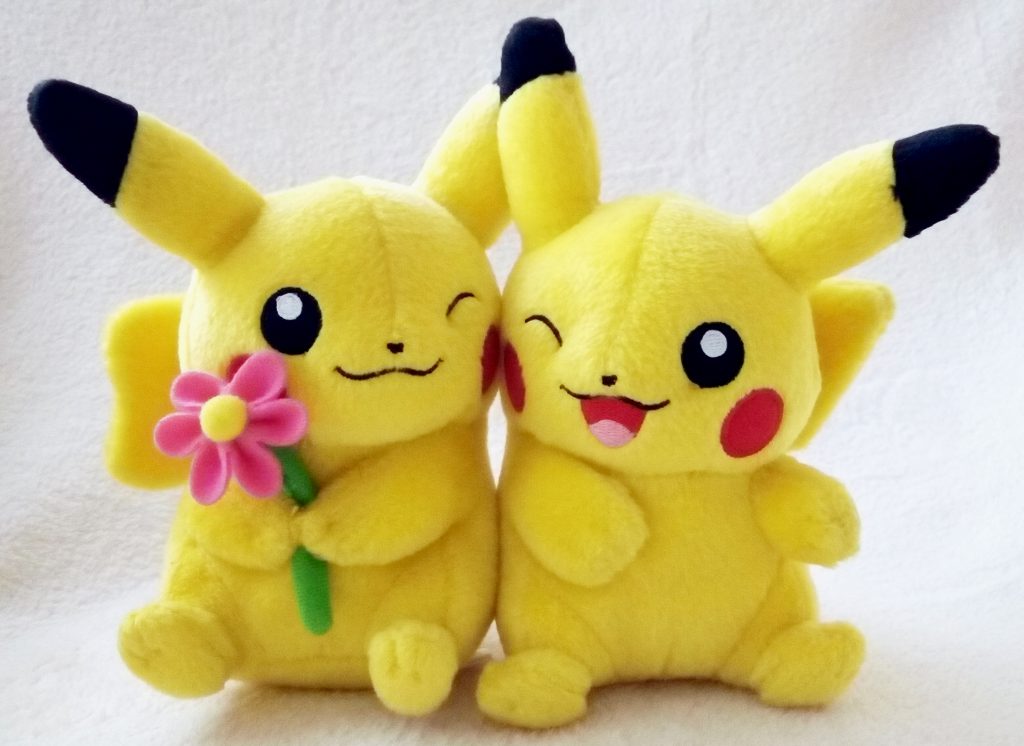 The plush is about 20 cm tall (including the ears), and each Pikachu is about 12 cm wide. They have a slightly fuzzy texture. It comes in its iconic colours. Both Pikachu are of the same size.
The Pikachu rub their cheeks together, giving them a winking expression. The female is holding a small, pink plush flower.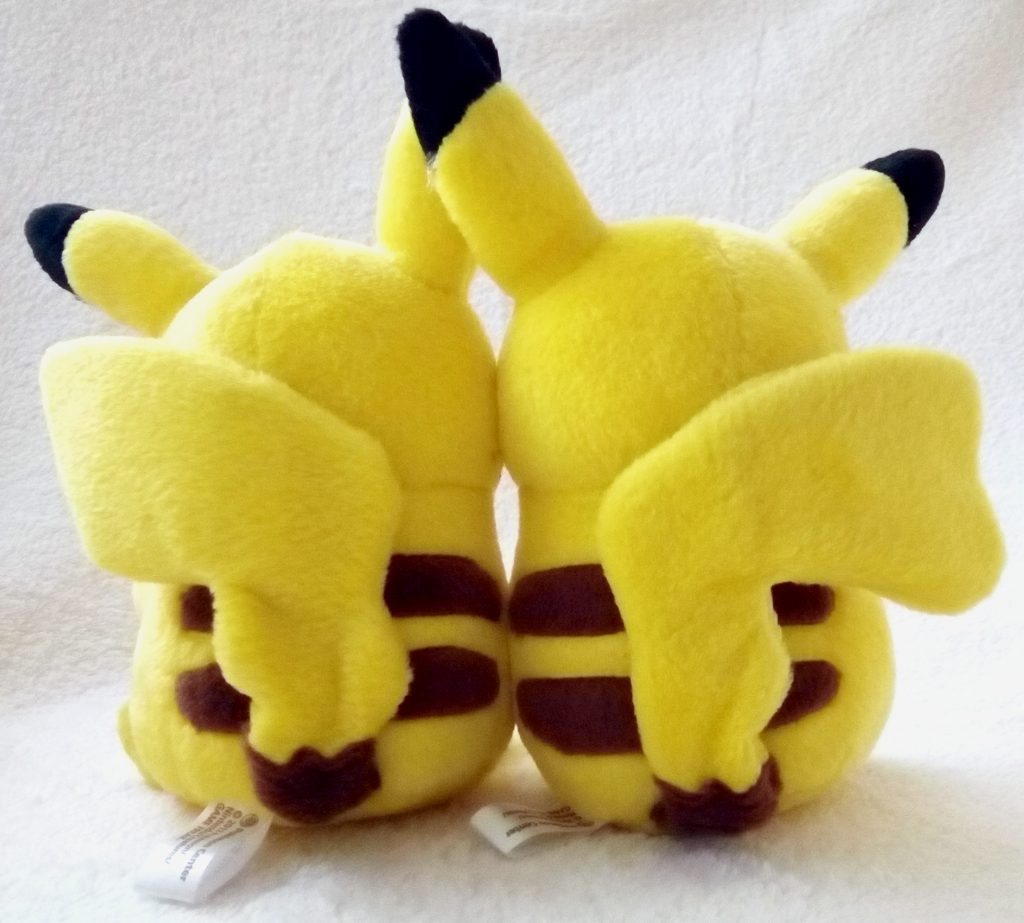 It is a couple consisting of a male and female Pikachu, indicated by the iconic shape of their tales (the female has an indent, shaping its tail like a heart). Above you can see the male on the left and the female on the right.
They are stitched together by their cheeks and hips.
Both Pikachu come with a tush tag, which reads the same.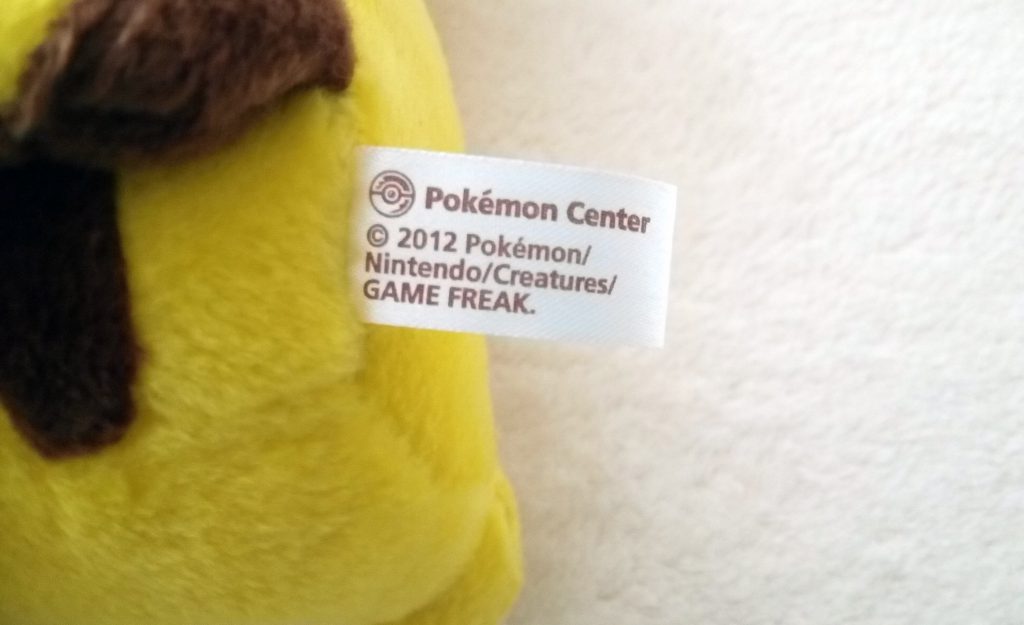 It has the Pokémon Center on it, as well as 2012 and the © for Pokémon / Nintendo / Creatures / GAME FREAK. The Pokéball logo is fully filled in and the text is a dark brown colour.
The plush comes with a round hangtag depicting the Pikachu nuzzling together, having their red cheecks form a heart shape.
---
One of the most sentimental plush I probably own. I usually don't like stitched together plush, but this couple looked so darn cute. I'm not a big fan of flowers, but the nuzzling got to me.
I saw it for the first time early 2013, long after its promotion (almost a year!) and it was obviously sold out everywhere (it probably popped up around Valentine's day in my news feed somewhere). Because of its exclusivity and cute nature, it was also widely popular and quite expensive to get now. I found one for sale late 2013 / early 2014, without the hang tag. And because it was missing the hang tag it was for a much lower price than all the others I had seen.
This was also the time I was getting close with my now boyfriend, and we decided to buy this plush together and go halfsies. It was the first time we bought something together!
This plush represents us in a way, as we like to nuzzle up on the couch and watch a movie together. And as I said early, it was our first joined purchase. Now that we have a house to fill with furniture we have had many, but it was a big step back then!
Overall I think this is the cutest Pikachu pair plush there is. It's not as sappy, in my opinion, as the ones they released in later years around Valentine's day (holding a heart or a flower heart). The monthly Pikachu pair they released in 2016 also doesn't come close to this one in my opinion.
If you are a fan of Pikachu, or pair plush, you probably want this one. It can be hard to find though as not many will sell it.
---
Got any more details / information you think I should add? Or did I get something wrong? Do you own the same plush? What's your story for this pair? Do you agree or disagree with my findings? Let me know in the comments below!