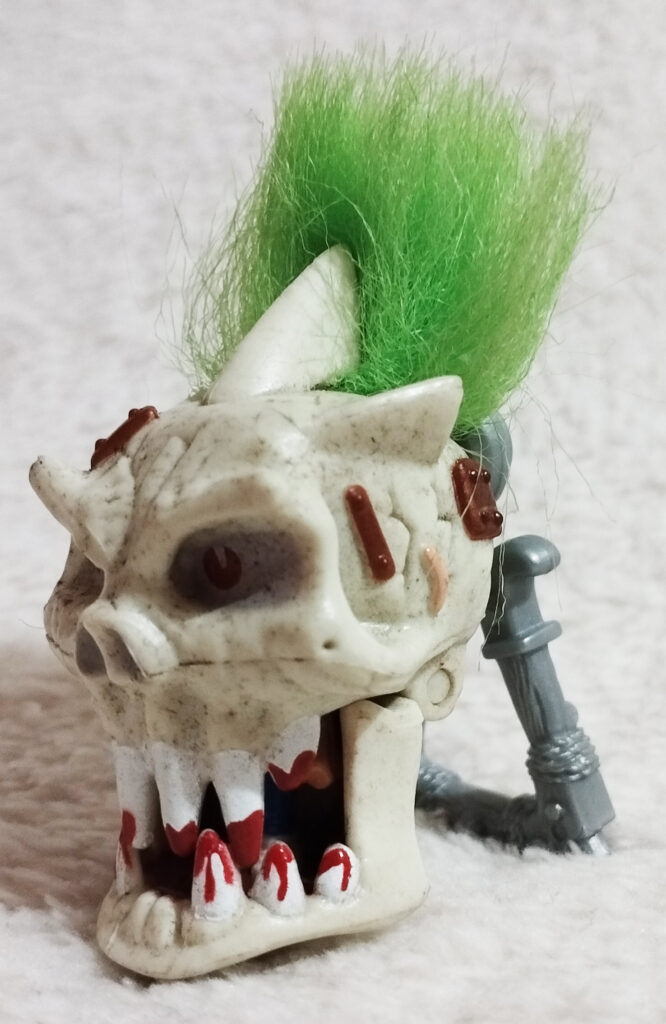 Company: Bluebird (UK), Mattel (USA), Irwin Toy (Canada)
Release date: 1993
Size: +/- 6cm
Main distribution: Europe / America
Mighty Max is a series of playsets with a horror theme, similar to Polly Pocket but aimed primarily at boys. Dread Heads are small "trophy" heads, which can be hung on your belt or backpack, and hold a Mighty Max figure in their mouth.
Each set comes with a little story how Max's defeated this enemy. The back story, which is the same on all the sets, is as follows:
Max was bright and kinda good at getting out of trouble. But he'd never forget the day he broke Mum's mysterious old statue and found the cosmic cap inside. How was he to know it made him 'the Mighty One', able to travel by means of the Portals, a system used by the Ancients to travel instantaneously from place to place? And how were one smart kid, his baseball cap and his two protectors, wise old Virgil and fearless Norman, gonna measure up against the ultimate evil… Skull Master!!?
8 Dread Heads were released, with random Mighty Max figures. All seem to have a red cap though. Max-i-mise your collection of Dread Heads!
I have 1/8.
Skull Crusher
Release date: 1993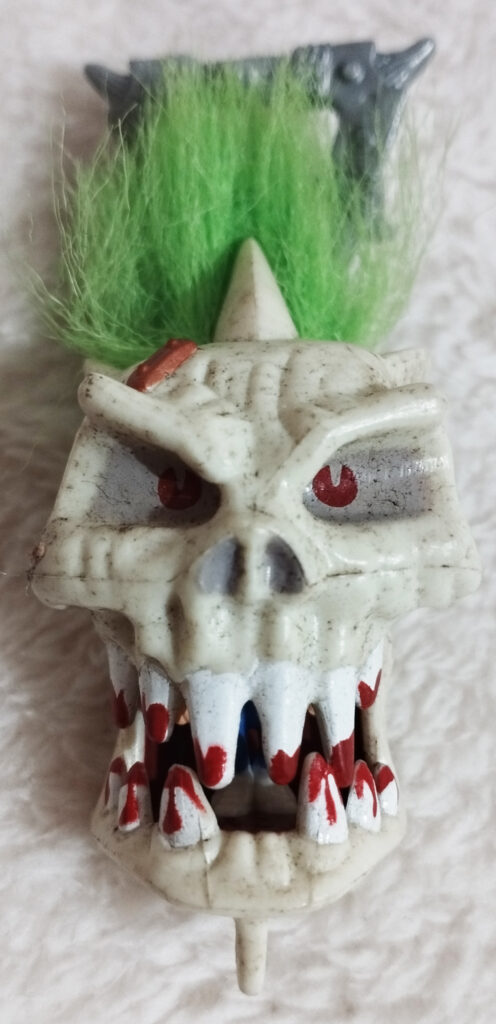 Skull Crusher looks like a skull, with long sharp teeth covered in blood and toxic green hair on top. There's a grey clip on the back to hang him on a backpack or clip on a belt. Swivel the clip down and it becomes a stand.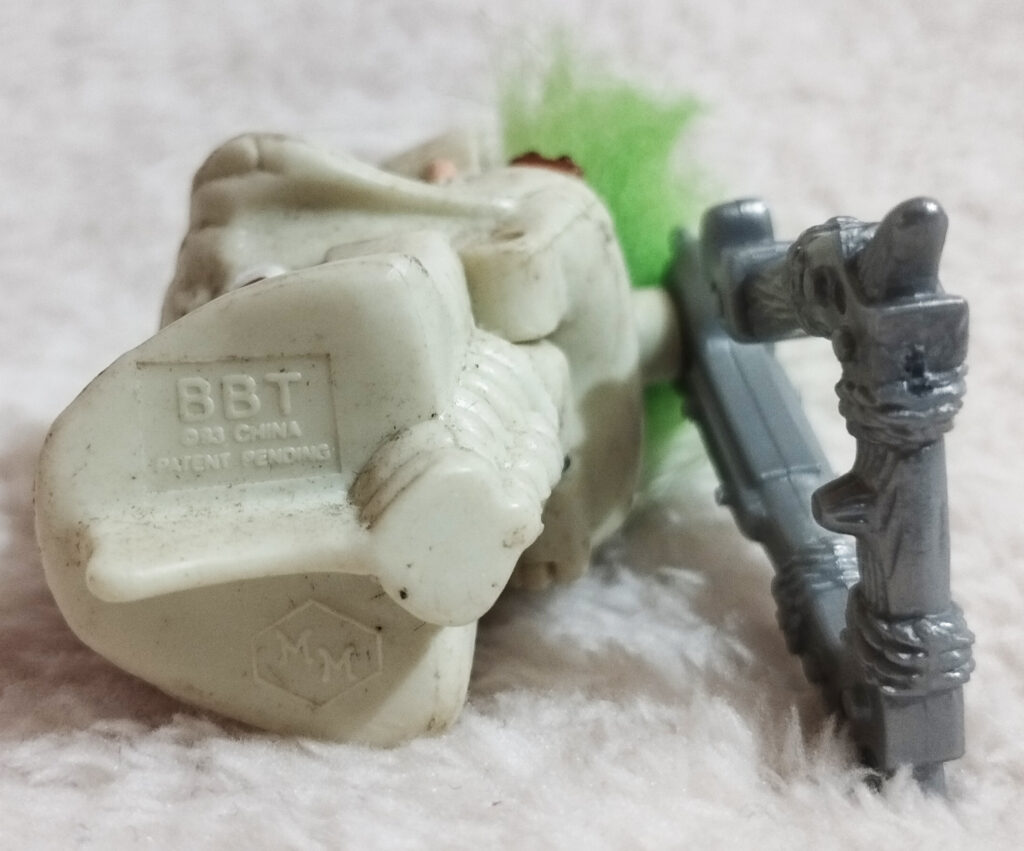 On the bottom is the branding. It reads in raised front: BBT ©93 CHINA PATENT PENDING and the Mighty Max logo.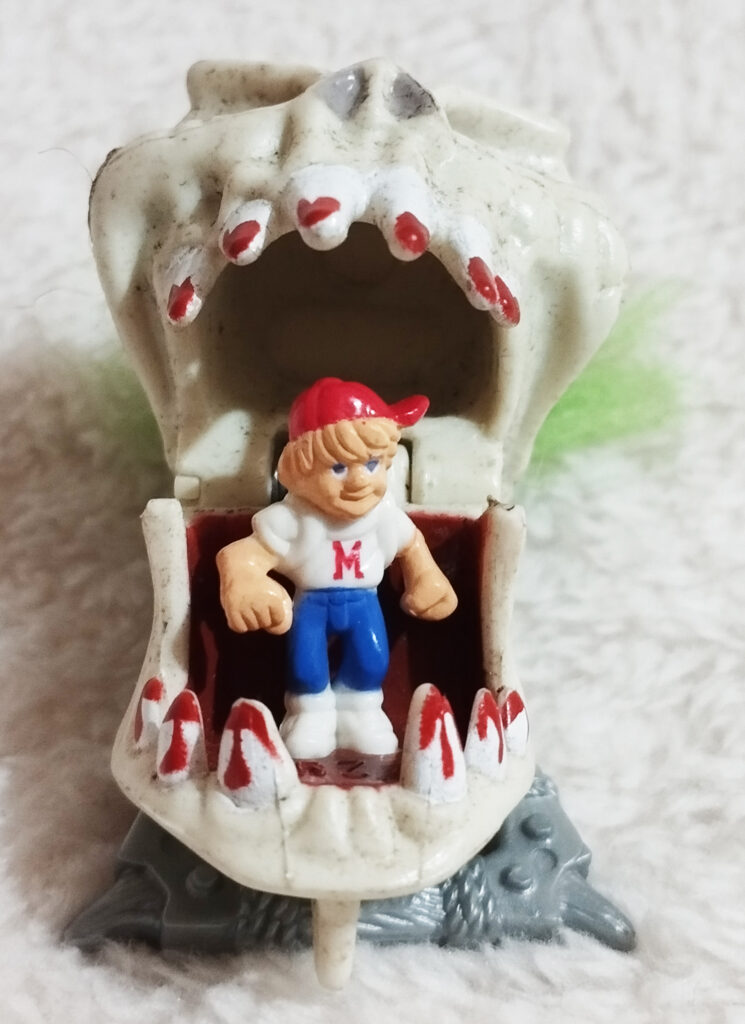 Opening its jaw reveals a spot for a Mighty Max figure.
Mighty Max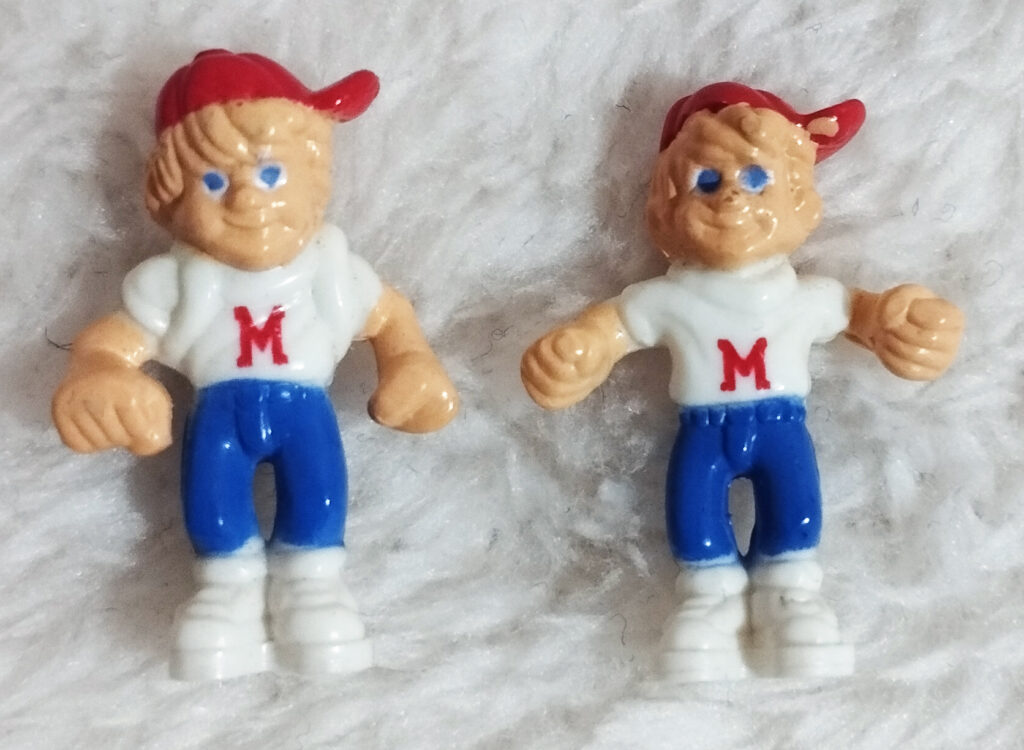 The Dread Head comes with 1 Mighty Max figure, but it's random which figure you get. There's again 8 different ones. They all have a red cap. I have 2 figures.
The one on the left has a white backpack, and 2 fists down. The one on the right has a high collar and 2 fists to the side.
His design is more proportioned to a teenager now and less chibi than his 1992 counterparts.
There's also a Mighty Max holding a slingshot, a lamp, a spanner and a gun, as well as 2 fists up and a punching one.
---
I had never really seen Mighty Max the tv show, read the comics, or had the toys. But I had heard of the "boys Polly Pocket" and seen images.
Visiting a local school who were having a toy car boot sale, I came across a bag of Mighty Max. I instantly recognised what it was, but was unable to tell if anything was complete or matching. Regardless, they only asked for a few pounds, so I bought it.
I found some Horror Heads, a Dread Head and a Shrunken Head. I was surprised at Skull Crusher as I recognised it from childhood. My brother had once bought it at a market with his pocket money, because it was a cool skull. I never knew it was from Mighty Max! It give me some nostalgia after all.
Although I don't intent to collect these or anything, I do love small playsets and it's nice to have something a bit different in the toy box. If I come across more for cheap I'll get them, but won't actively hunt for them.
Although the 1993 Mighty Max looks more like his teenager part, I do like the chibi look 1992 Mighty Max has.
If you like tiny things, little scenes and more horror-like playsets, Mighty Max is great for you.
If you like bigger or less grotesque toys, these won't be for you.
---
Got any more details / information you think I should add? Or did I get something wrong? Do you own any Mighty Max Dread Heads? Which one is your fav? Do you agree or disagree with my findings? Let me know in the comments below!