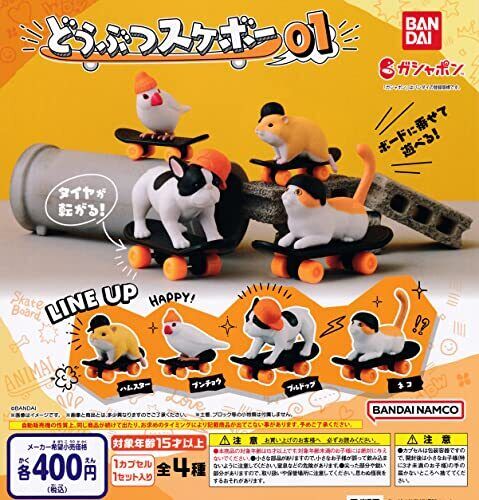 Company: Bandai
Release date: Spring 2023
Size: +/- 6cm
Main distribution: Japan / USA / UK (Gashapon machines)
---
These are Gashapon figures of animals skating with skateboards.
2 series of 4 figures have been released so far, making 8 figures total. I got 1/8.
Animal Skateboard 01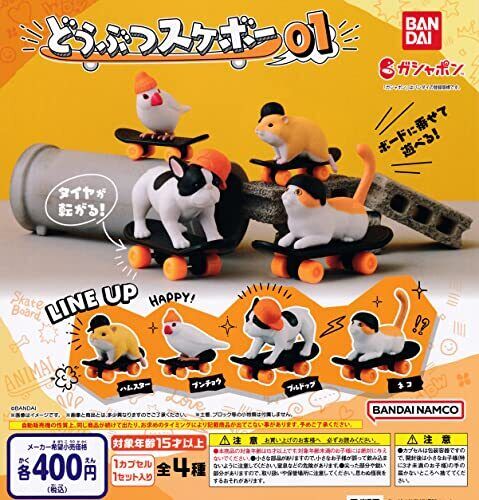 The first set is orange themed and exists out of a hamster, bird, dog and cat.
I got 1/4; dog.
The figures come in orange balls. Due to the opacity you can see which one you got without opening it.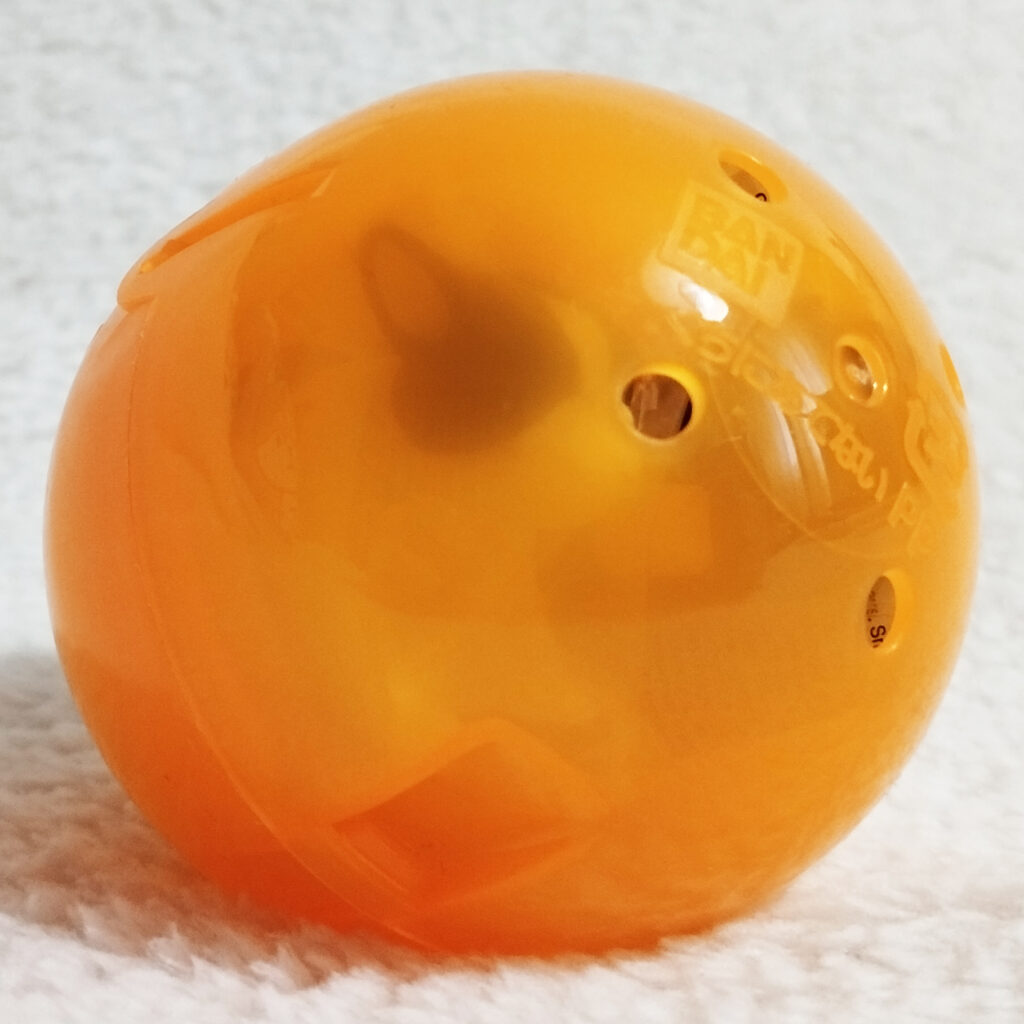 As mine is the Western release, it didn't come with the usual leaflet that lists them all. It came with a generic piece of paper with warnings and manufacturing data.
Dog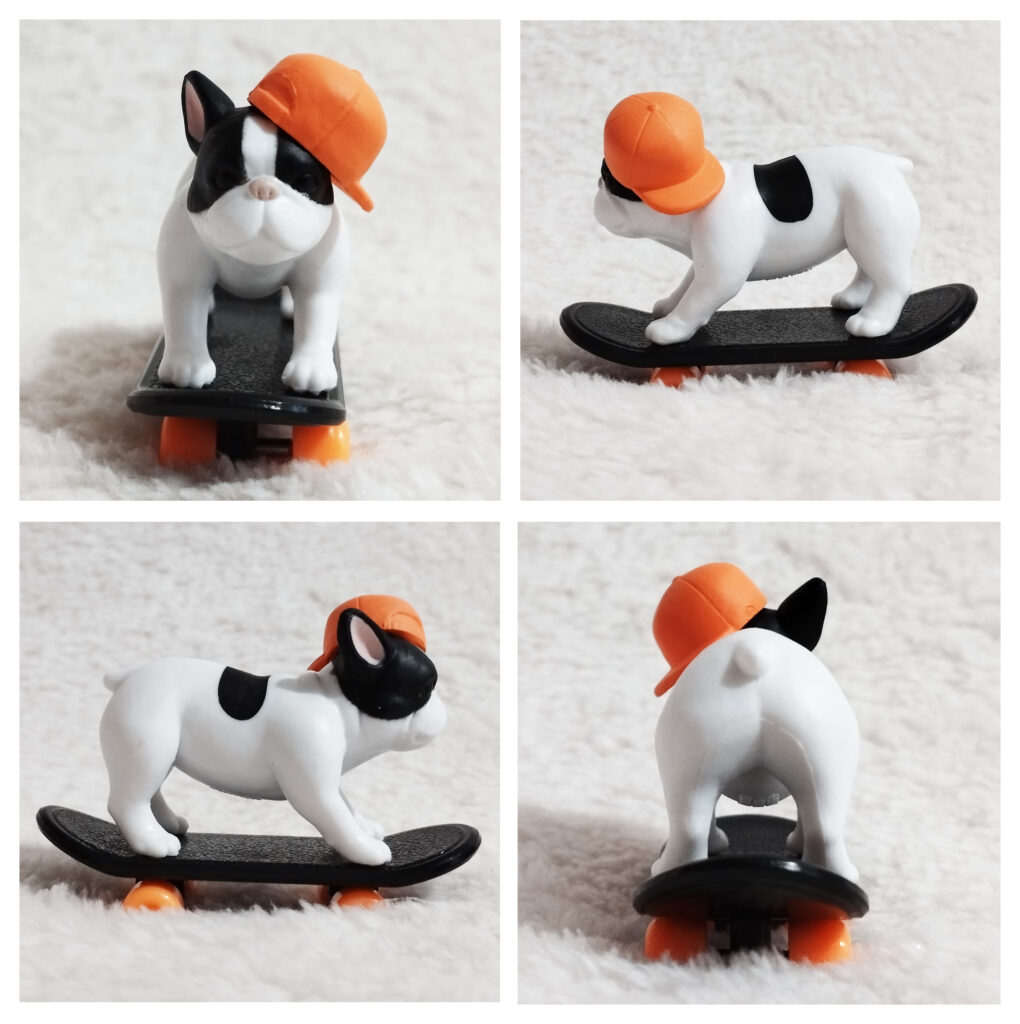 The Dog might be one of the largest figures of the set, and therefor comes with a larger skateboard appropriate for his size. The skateboard wheels work and spin, which is a nice touch. The Dog is a French Bulldog, white with black patches. He wears an orange cap, which is attached to the figure and can not be removed. The figure itself is loose from the skateboard, and there are no pins or anything to attach him to it, you'll have to balance him. The branding is on his belly, and reads in raised font "© BANDAI B. CHINA 2827955" and the 4 dots of Bandai.
Animal Skateboard 02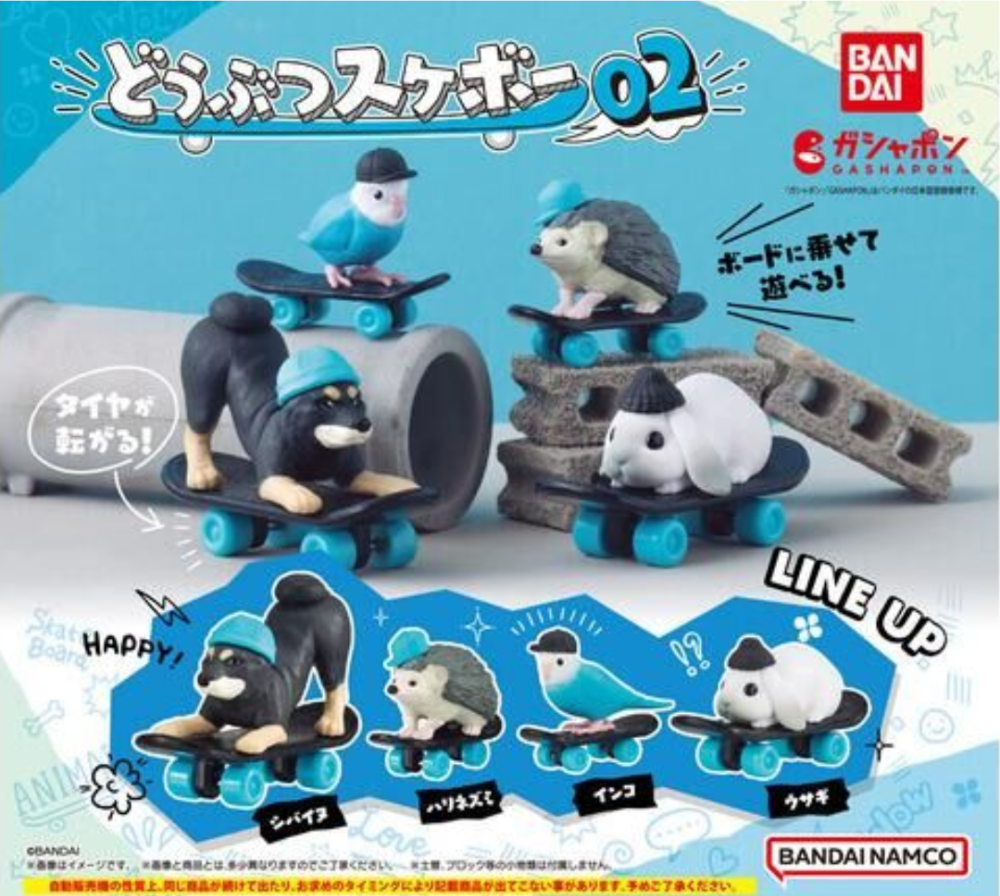 The second set is blue themed and exists out of a dog, hedgehog, bird and rabbit.
I got 0/4.
---
I have finally found a Gashapon store in the UK, and even better, it's quite close near me. So I of course had to check it out.
Sadly the mark up is extortionate. You have to buy special coins for the machines, which are £2 each. Then each machine, depending on what's inside, take a different amount of coins. These took x3! So £6 a try. Considering these are ¥400 in Japan that is a lot (especially now that the yen is quite low). They didn't even bother translating the usual leaflets for it either, as you just don't get one. They only translated the front image for the machine.
You'd be better off finding a full set, or buying specific wants online. I don't mind a slight mark up considering the import, but for a random pull this felt expensive. Which is a shame, as I like these random funny animal ones, but I wouldn't import them online either like branded IP ones. And if they were cheaper, I'd probably try more of it by chance. If I wanted to collect a full set, I'd buy it online for these prices.
Still, it's a novel experience. I had hoped for the Dog, although all look great. The bird looks funny, my partner likes hamsters and the cat's pose is cute. I wouldn't have mind any of them but glad I got the dog. He's bigger than I thought too, and the fact that the skateboard works is a nice touch.
Overall this series is funny and cute and if they get the second set in I might have to try it again, despite being expensive.
If you like Gashapon, little figures, cute and/or funny animals, you'll like this series. Be advised they may be expensive depending where you find them.
If you prefer larger or articulated toys, you might give these a miss.
---
Got any more details / information you think I should add? Or did I get something wrong? Do you own these figures? Do you agree or disagree with my findings? Let me know in the comments below!