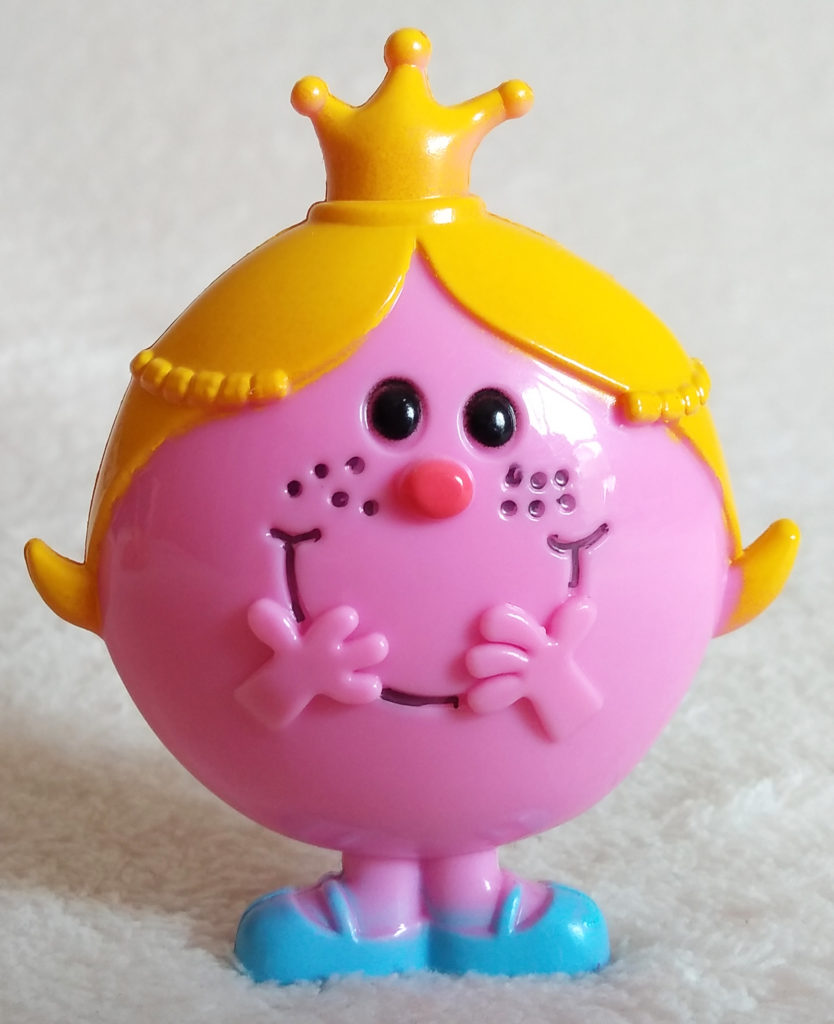 Company: THOIP / Sanrio
Release: Summer 2015
Size: 7.5 cm
Main distribution: Beefeater (UK)
---
This is a figure from the Mr Men series of children's books by English author Roger Hargreaves which he started in 1971. From 1981, an accompanying series of Little Miss books by the same author but with female characters was published. These particular figures came out of a Kids Meal from the Beefeater in the UK, made by THOIP, which are a subsidiary of Sanrio in the UK.
The Beefeater has a strong connection with Mr Men. In 1991, they gave out badges with Mr Men characters on them in their kids meal. They even got their own Men, Mr. Beefeater!
In 2014 they relaunched their kids menu as a Mr Men and Little Miss Menu. The son of the author even came to the launch party and signed stuff. It was a big event.
In Summer 2015 they started giving out figures with the Kids Meals.
These figures were made by THOIP, which are a subsidiary of Sanrio in the UK. The figures have © THOIP on them, as well as a small number. On the figure is also a sticker with a long number and © THOIP.
At least 22 different figures could be collected.
I got 1 of them; Little Miss Princess.
Little Miss Princess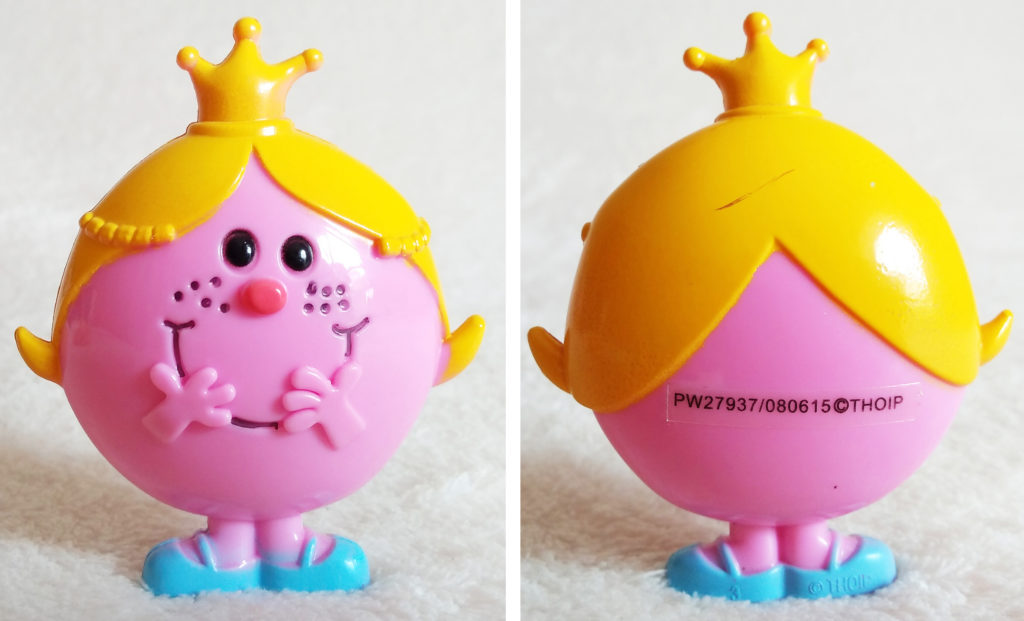 Little Miss Princess figure looks exactly look her book counterpart. She is fairly slim and 2D-ish, with no articulation. She is hollow and made out of hard plastic. She is round and pink, with yellow hair and a yellow crown. She wears blue shoes. She has a red nose, black freckles, eyes and mouth. Her hands cover her mouth in a giggling fashion.
---
The Mr Men books were in my elementary school in English. They were the first English we read. As far as I knew as a child, this was the most English thing that existed haha. In a way, I guess they are like the English Miffy. The books are simple, square and easy to read.
Seeing them always makes me a bit nostalgic, but after school, I never really got into these again.
I lived near a Beefeater from 2015-2018, and they would often post promotional coupons in the area for the locals to use. As it was next to a hotel, it often had its hotel guests eat there, but not so much the locals. We always went in when they gave out the coupons, as we love steak but can't afford to eat out a lot, so the discount meant a lot to us.
One late summer my boyfriend takes me out to the Beefeater, and I see the poster that the Kids Meal has the Mr Men figures. But according to the date on it we were just too late. My boyfriend asked if they had any leftovers, and they had one, which he asked if he could have for me. That's how I ended up with Little Miss Princess.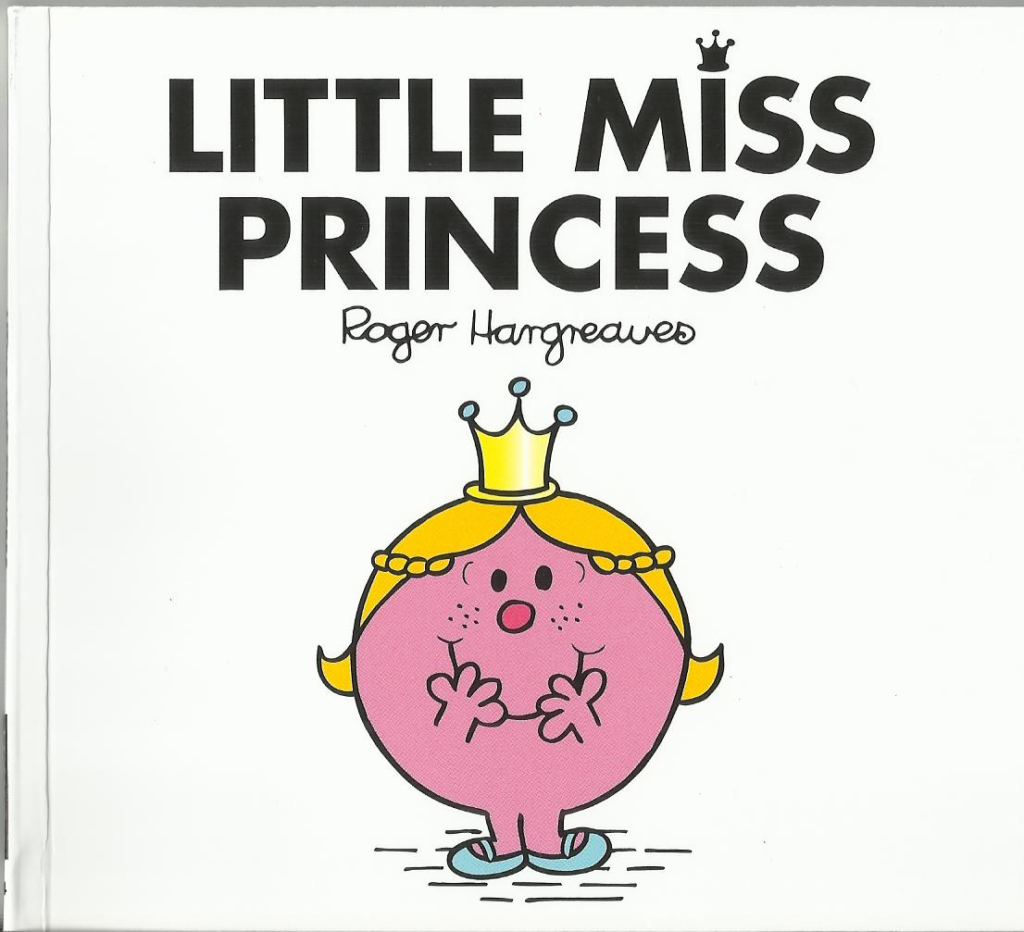 I love how she looks exactly like the original artwork. If you know me, you know I like 3D interpretations of 2D art.
Despite the somewhat romantic way I got this figure, we have nothing with Mr Men now. So while I'm downsizing it's time for her to find a new home. I can't keep everything sadly! Perhaps she goes to a little fan of the books, or to someone to finish off their collection.
---
Got any more details / information? Did I get something wrong? Do you own the same figures? Let me know in the comments below!